Roasted sunchokes with hazelnut and lemon is packed full of flavor and easy to make.  Sunchokes are tossed with lemon, hazelnuts and parsley to create a decadent side dish.
I first fell in love with sunchokes a few years ago when I was the head chef at a bed & breakfast.  I'd done everything I could do with potatoes and was looking for something new.  And then in walked sunchokes.  I was instantly smitten by these little root vegetables.  Sunchokes became a regular side dish on the plates of our guests and I've been singing their praises ever since.
What is a Sunchoke?
A sunchoke is a root vegetable and belongs to the sunflower family.  Sunchokes are also commonly called Jerusalem Artichokes, although they have nothing to do with artichokes and are not from Jerusalem.  Funny, I know.  No one knows for sure how they got the word Jerusalem in their name, but there is a theory.  Italian immigrants to the US called sunchokes girasole, which means sunflower in Italian.  It is thought that Americans just got lazy with the word and changed it Jerusalem!
Sunchokes have an appearance similar to a knob of ginger and come in many shapes and sizes.  They can be long with a few knobs or bulbous with knobs protruding from everywhere.  They range in color from light brown to a dark reddish hue.
Sunchokes taste very faintly of artichokes, which is likely where they got the word artichoke in their name.  Sunchokes have a slightly sweet and nutty flavor.  They have a texture similar to potatoes when roasted and are crispy when eaten raw.  Similar to a potato, sunchokes can be roasted, steamed, mashed, boiled, pureed and sautéed.
Are Sunchokes Healthy?
Sunchokes are a great addition to your diet as they contain many nutrients and minerals.  They are high in iron, potassium and fiber and have a low glycemic index which helps keep blood sugar stable.  Sunchokes contain inulin, a prebiotic that feeds the good bacteria in our gut.  Because they contain inulin, if you're new to sunchokes it is advised that you take them slowly.  They are known to cause digestive upset and bloating if eaten in large quantities.  These effects are heightened by eating them raw with the skin on, so try removing the skin or eating them cooked to begin with if you're new to sunchokes.
How to Select and Prepare Sunchokes
Since sunchokes aren't widely used, they tend to sit in grocery stores longer than other vegetables. When selecting sunchokes make sure they feel firm and aren't soft or spongy.  Look in the crevices of the knobs to make sure there isn't any mold hiding out.
A good bristled vegetable scrubber is a great tool to have when cleaning sunchokes.  Under running water, use your vegetable brush to get into all the little crevices of the vegetable to remove any dirt or loose skin.
As previously stated, sunchokes can be eaten with or without the skin.  I usually eat mine with the skin on simply because I'm a bit lazy. I also like when the skin gets a little crunchy after its been roasted.  Peeling sunchokes is more time consuming that peeling a potato because of all the knobs and crevices.  When I do peel them, I use the edge of a spoon, scraping it along the skin and into the crevices to remove the skin.  You can also use a vegetable peeler, but it's more difficult to remove the skin between the knobs.
How to Make Roasted Sunchokes
Now that we've determined how to buy and clean the sunchokes, we finally get to chop and roast them!
Preheat the oven to 400F.  Cut the sunchokes crosswise into ½-inch pieces and place them on a sheet pan lined with parchment paper.  If you have a strangely shaped sunchoke, do your best to chop it into similar sized pieces so they all roast evenly.  Next, toss the sunchokes with a drizzle of olive oil.
Roast in the oven for 20-25 minutes, stirring once halfway through, until golden brown and fork tender.  Sunchokes can quickly turn mushy if roasted too long, so keep a close eye on them the last 5 minutes of roasting.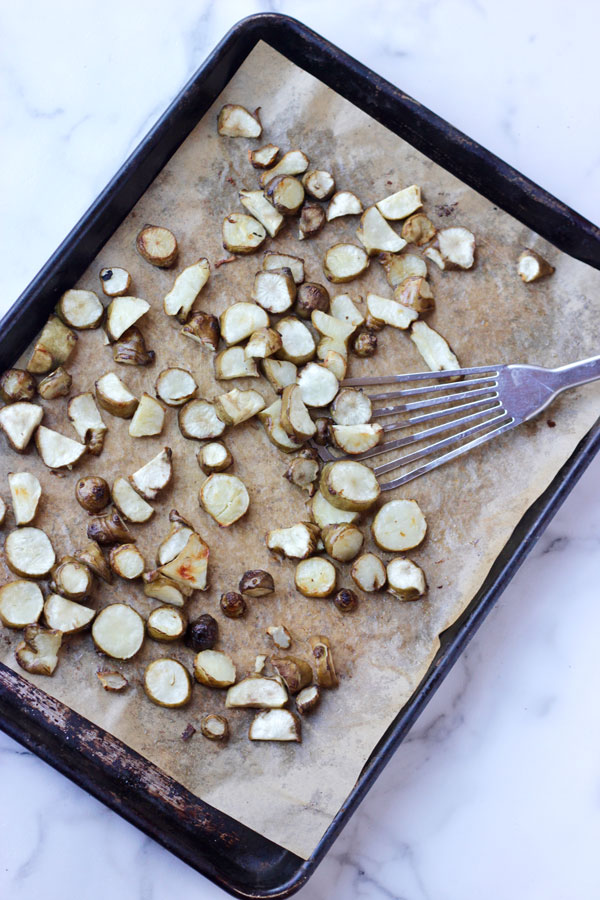 Remove the sunchokes from the oven and place them in a large bowl.  Toss with lemon juice, toasted hazelnuts and parsley.  Season with salt and pepper if desired.  Enjoy!
Disclosure: This post contains Amazon affiliate links that earn me a small commission, at no additional cost to you. I only recommend products I personally use and love or think my readers will find useful.