This hearty and delicious sweet potato curry with chickpeas and coconut is vegan, gluten-free, quick to make, and packed full of nutrition.
When winter hits in Minnesota, I know it's time to pull out all my favorite curry recipes and make them like crazy.  Warm, slightly spicy and packed with nutrition, this sweet potato curry with chickpeas and coconut happens to be a personal favorite of mine.  But truly, just about any vegan curry will do.
I may have made a few too many curries last winter and Mace, my husband, who is my biggest food fan, screamed STOP! Too much curry for him (which is impossible in my opinion, but whatever). So, I took a curry break at the end of last winter. But guess what?? ITS BAAAACK!!
What is Curry?
Curry is generally meat and or vegetables stewed in a spicy fragrant sauce.  There are different types of curry powders and curry pastes, but they generally contain: turmeric, coriander, cumin, ginger, and something to add spice.  From there, hot peppers, cilantro, onion, lime, garlic, and many other ingredients can be added to change the flavor and texture of the curry base.  Curry powder and pastes can be purchased pre-made, or you can make them easily by combining your own spices as I do in this recipe.  Either way it's not going to be bad.
Is Curry Spicy?
Curries can be anywhere from mild, to so spicy you have sweat dripping from your brow.  Since I am a good little Minnesotan, I tend to keep my curries very mild.  Many of us with Scandinavian heritage still haven't acquired any tolerance for spicy foods.  Exhibit A regarding my wimpy Scandinavian tongue:
While we were eating this curry, I commented frequently about how spicy it was. Mace looked at me and said: I was thinking this was pretty sweet, I don't taste any spiciness at all. Huh? Wimp. Right here.
Feel free to amp up the spiciness in this recipe to suit your taste.  If you accidentally over-spice your curry, try adding a little more coconut milk.  Or if you want to be really decadent, try adding a dollop of coconut whipped cream.
I love this particular curry recipe because it combines so many of my favorite foods: chickpeas, sweet potato, and kale.  But curries are very easy to diversify.  You could easily swap the sweet potato for regular potatoes, and the chickpeas for black-eyed peas and you'd have yourself a good down-home southern-style curry!  Feel free to use this recipe as a base for experimenting with what you have on hand.
Now, off you go to bring more curry joy into this world. ENJOY!!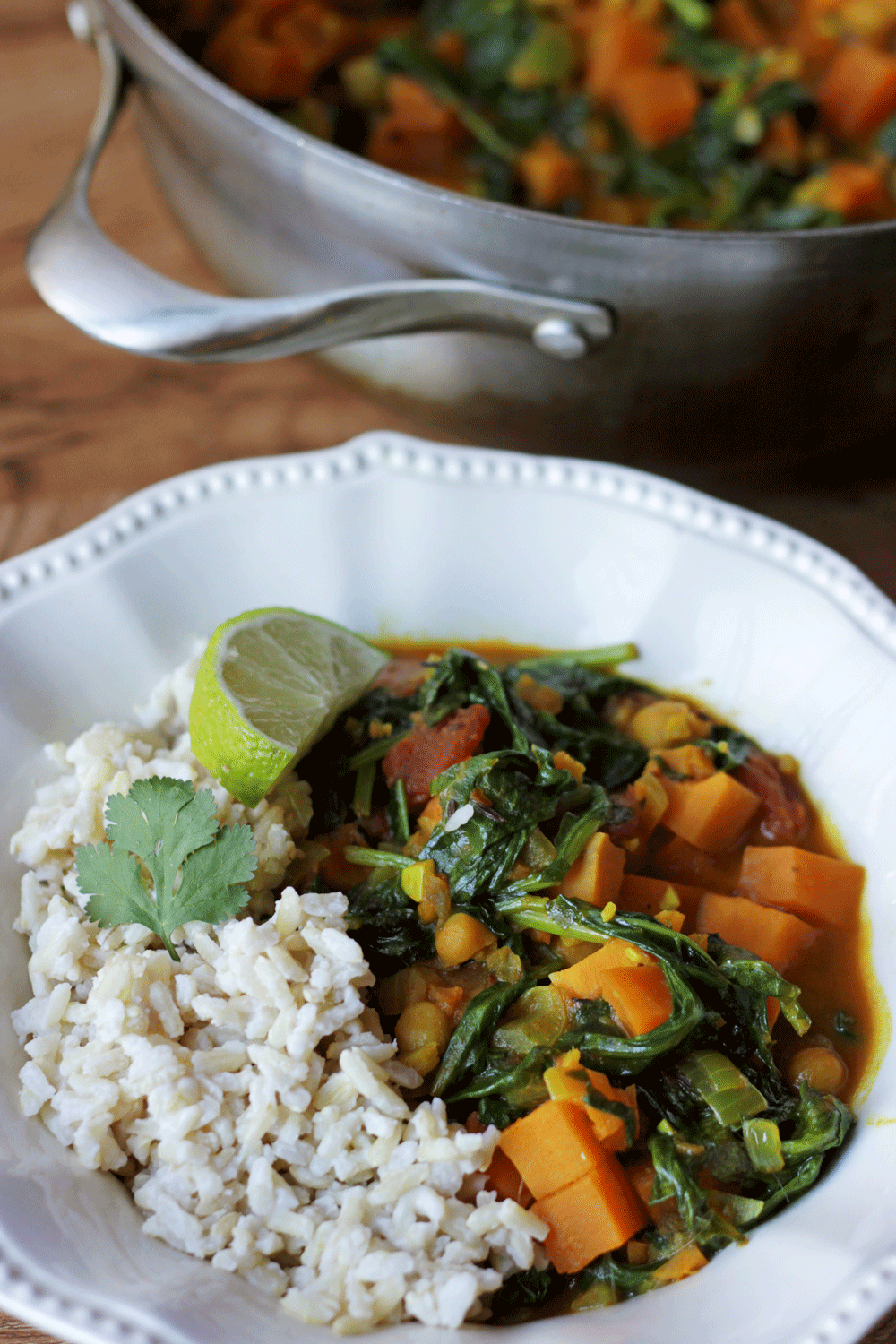 Did you make this recipe?
Please leave a rating and tell us how you liked it!
Sweet Potato Curry with Chickpeas and Coconut
This hearty and delicious sweet potato curry is quick to make and packed full of nutrition. Make a double batch of this warm winter meal and eat it all week long.
Print
Pin
Rate
Ingredients
1

tablespoon

cumin seeds

1

large onion,

diced

sea salt,

to taste

5

garlic cloves,

minced

1 ½

tablespoons

ginger,

minced

1 ½

teaspoons

turmeric

1 ½

teaspoons

coriander

¼

teaspoon

red pepper flakes,

or to taste

1

large sweet potato (about 4 cups),

cut into ½ inch pieces

1

14-ounce can

chickpeas (or 1 ½ cups),

drained and rinsed

1

14-ounce can

lite coconut milk

(lite or full-fat will both work)

1

14-ounce can

diced tomatoes (or 1 ½ cups chopped fresh tomatoes),

with juices

5

ounces

baby kale (or 1 bunch regular kale, stems removed and roughly chopped)

pepper

to taste

rice, quinoa or cauliflower rice

for serving

fresh chopped cilantro

for serving

lime wedges

for serving
Instructions
Heat a large saucepan or dutch oven over medium-high.  Add the cumin seeds and cook until fragrant, taking care not to burn them, about 1-2 minutes.  Add ¼ cup water, onion, garlic, ginger and salt to taste, and sauté until softened, adding more water as necessary to prevent sticking.  When most of the water has evaporated, add the turmeric, coriander and red pepper flakes and cook about 1 minute until spices are fragrant, stirring constantly so they do not burn.  

Add the sweet potato, chickpeas, tomatoes and coconut milk and bring to a boil.  Reduce to a simmer, cover and cook for 20-30 minutes until the sweet potato is very tender. 

Add the kale, stir to incorporate, and allow to cook an additional 5 minutes until kale is wilted. Serve on grains or cauliflower rice with cilantro and lime if desired.
Notes
To use curry powder in place of the other spices: omit cumin seeds, turmeric and coriander.  Add 1 tablespoon curry powder where you're instructed to add the turmeric and coriander.  
Nutrition
Calories:
217
kcal
|
Carbohydrates:
35
g
|
Protein:
6
g
|
Fat:
6
g
|
Saturated Fat:
5
g
|
Sodium:
240
mg
|
Potassium:
711
mg
|
Fiber:
6
g
|
Sugar:
6
g
|
Vitamin A:
15079
IU
|
Vitamin C:
41
mg
|
Calcium:
123
mg
|
Iron:
3
mg