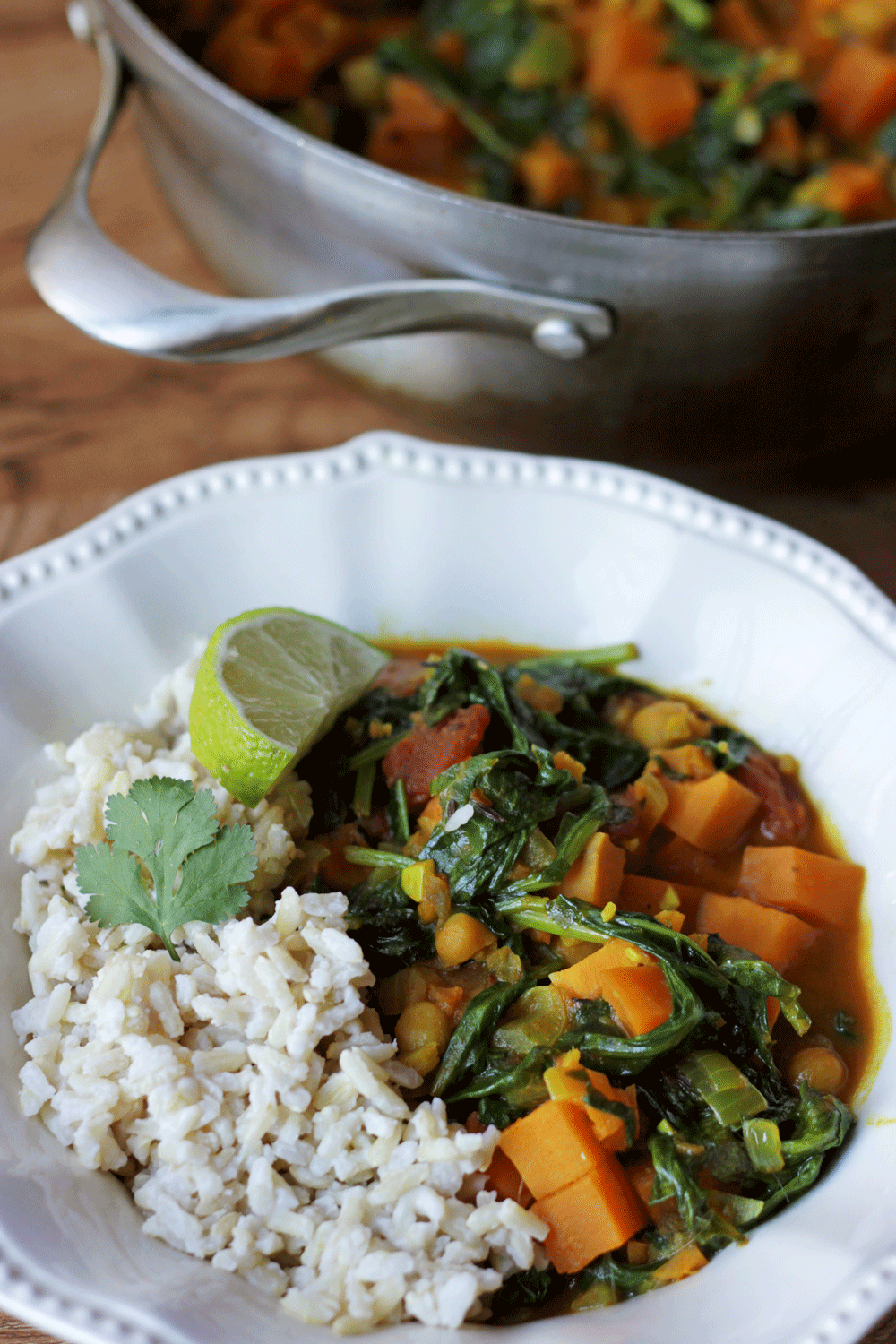 When winter hits in Minnesota, I know it's time to pull out all my favorite curry recipes and make them like crazy.  Warm, slightly spicy and packed with nutrition, this sweet potato curry with chickpeas and coconut happens to be a personal favorite of mine.  But truly, just about any vegan curry will do.
I may have made a few too many curries last winter and Mace, my husband, who is my biggest food fan, screamed STOP!  Too much curry for him (which is impossible in my opinion, but whatever).  So, I took a curry break at the end of last winter.  But guess what??  ITS BAAAACK!!
What is Curry?
Curry is generally meat and or vegetables stewed in a spicy fragrant sauce.  There are different types of curry powders and curry pastes, but they generally contain: turmeric, coriander, cumin, ginger, and something to add spice.  From there, hot peppers, cilantro, onion, lime, garlic and many other ingredients can be added to change the flavor and texture of the curry base.  Curry powder and pastes can be purchased pre-made, or you can make them easily by combining your own spices as I do in this recipe.  Either way it's not going to be bad.
Is Curry Spicy?
Curries can be anywhere from mild, to so spicy you have sweat dripping from your brow.  Since I am good little Minnesotan, I tend to keep my curries very mild.  Many of us with Scandinavian heritage still haven't acquired any tolerance for spicy foods.  Exhibit A regarding my wimpy Scandinavian tongue:
While we were eating this curry, I commented frequently about how spicy it was.  Mace looked at me and said: I was thinking this was pretty sweet, I don't taste any spiciness at all.  Huh?  Wimp.  Right here.
Feel free to amp up the spiciness in this recipe to suit your taste.  If you accidentally over-spice your curry, try adding a little more coconut milk.  Or if you want to be really decadent try adding a dollop of coconut whipped cream.
I love this particular curry recipe because it combines so many of my favorite foods: chickpeas, sweet potato and kale.  But curries are very easy to diversify.  You could easily swap the sweet potato for regular potatoes, and the chickpeas for black-eyed peas and you'd have yourself a good down-home southern style curry!  Feel free to use this recipe as a base for experimenting with what you have on hand.
Now, off you go to bring more curry joy into this world.  ENJOY!!
Disclosure: This post contains Amazon affiliate links that earn me a small commission, at no additional cost to you. I only recommend products I personally use and love or think my readers will find useful.