Chickpea lettuce wraps with peanut sauce and mango are bursting with flavor.  These colorful vegan lettuce wraps are an easy weeknight meal that is both healthy and filling.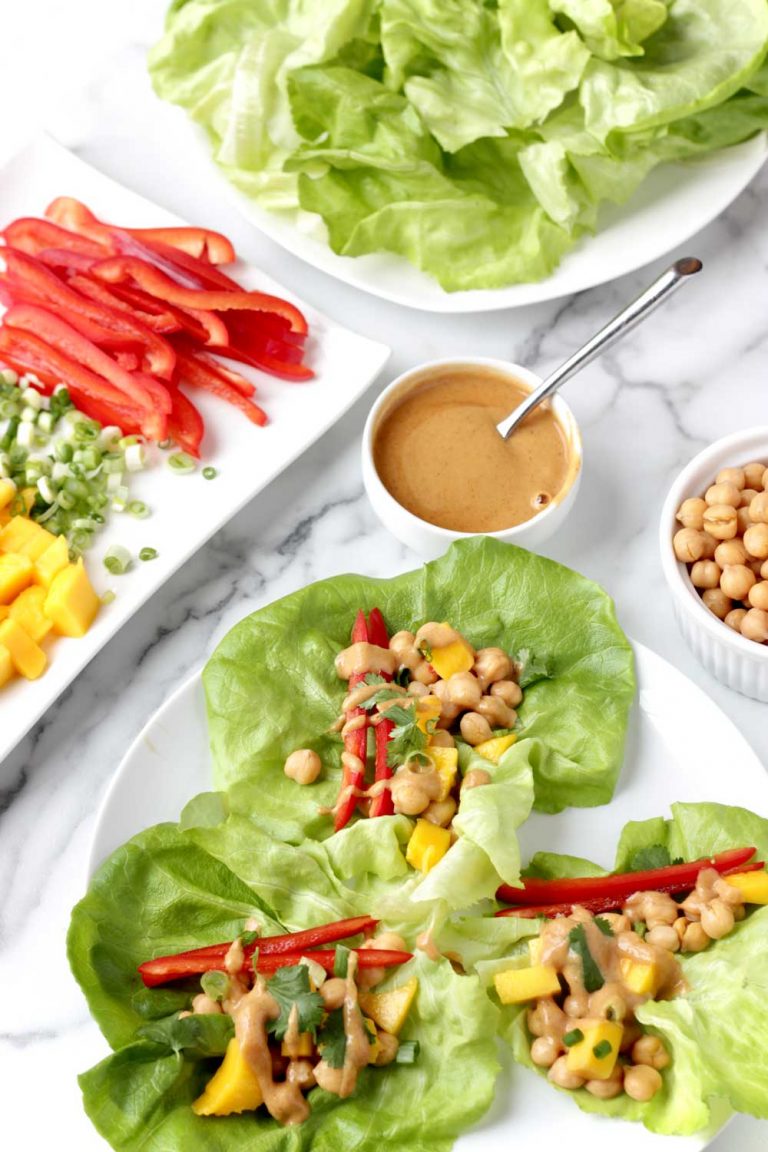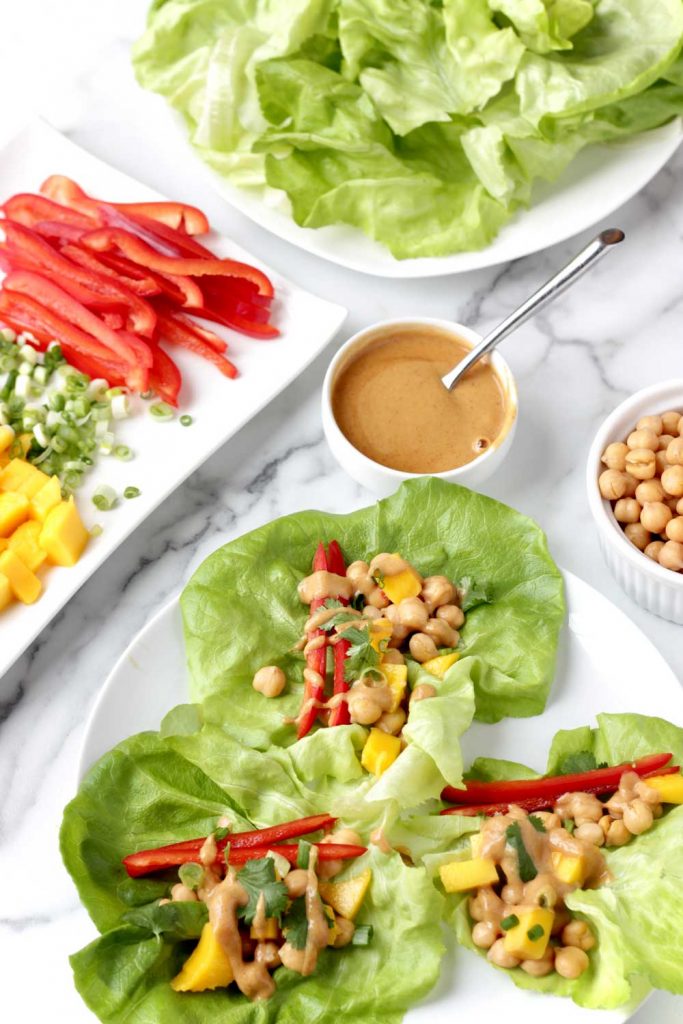 I am a sucker for anything with a good peanut sauce on it.  My recipe for Thai peanut noodle salad is something that I make almost every week and it never gets old.  When I have leftover peanut sauce I pour it over salads and roasted  veggies or use it as a dip for veggies.  So, when I was staring at a head of butter lettuce and a jar of leftover peanut sauce, I had no choice but to make lettuce wraps.
Using sweet ingredients to create savory dishes is something I love to do.  Mango salsa has long been one of my favorite appetizers because of its surprising mix of sweet, salty and spicy.  I thought adding mango to these lettuce wraps would create the perfect mix of flavors and textures, and it didn't disappoint.  These vegan chickpea lettuce wraps require no cooking, just chop and assemble, for an easy weeknight meal in under 30 minutes.
Ingredients and Substitutions
Chickpea lettuce wraps with peanut sauce can be as versatile as you desire.  I think lettuce wraps are a blank canvas for whatever flavor combos inspire you.  Below are some of the key ingredients and substitution ideas.
Butter lettuce - You can use any large lettuce leaf such as Boston, bibb, romaine or cabbage.  Lettuce wraps serve many purposes.  They are low calorie, low carb and offer a naturally gluten free alternative to tortillas.
Bell pepper - use any other veggie here such as carrot, cucumber or zucchini.
Mango - Pick ripe mango that gives slightly when indented with your finger for the best flavor.
Chickpeas - I have also made these with baked tofu marinated in tamari, so feel free to switch up the protein.
Cilantro - I see you cilantro haters, and its okay.  Just omit it if you can't stand it.  I'll eat what you leave behind.
Peanut butter - Use creamy or crunchy peanut butter.  Crunchy peanut butter adds another texture to the lettuce wraps that is wonderful!  To make this nut free you can substitute tahini or sunflower butter.
Garlic and ginger - Since there is already a fair amount of chopping in this recipe, I streamlined the peanut sauce by using dried ginger and garlic.  You can definitely use fresh ginger and garlic if you want.
Tamari - Make this soy free by using coconut aminos instead.
How to Make Chickpea Lettuce Wraps with Peanut Sauce
These no-cook chickpea lettuce wraps are a perfect lunch or weeknight dinner. Because they don't require cooking, they are an especially good summertime meal when you don't feel like turning on the stove.  I love serving these with all the ingredients on a large platter so everyone can assemble the lettuce wraps to their liking.
Start by making the peanut sauce.  Whisk together all the ingredients in a small bowl, adding more warm water a teaspoon at a time to create a smooth pourable sauce.  Set the peanut sauce aside.
Next, chop the pepper, mango, cilantro and green onion and place on a platter alongside the chickpeas.  Wash the lettuce leaves, pat them dry and place on another platter.  Place platters and peanut sauce in the middle of the table and have fun assembling!  Enjoy!
Make Ahead
You can prepare all of the ingredients up to three days ahead of time and store in airtight containers in the fridge.  If you make the peanut sauce ahead of time, you may have to stir in a little water to help loosen the sauce and make it pourable again.
Disclosure: This post contains Amazon affiliate links that earn me a small commission, at no additional cost to you. I only recommend products I personally use and love or think my readers will find useful.