Homemade gluten free tortillas are made with three simple ingredients: chickpea flour, tapioca starch and water.  This recipe makes tortillas that are soft, flexible and are perfect for tacos, burritos, enchiladas and more!  I love using these tortillas with my jackfruit tacos and smoky cauliflower tacos recipes.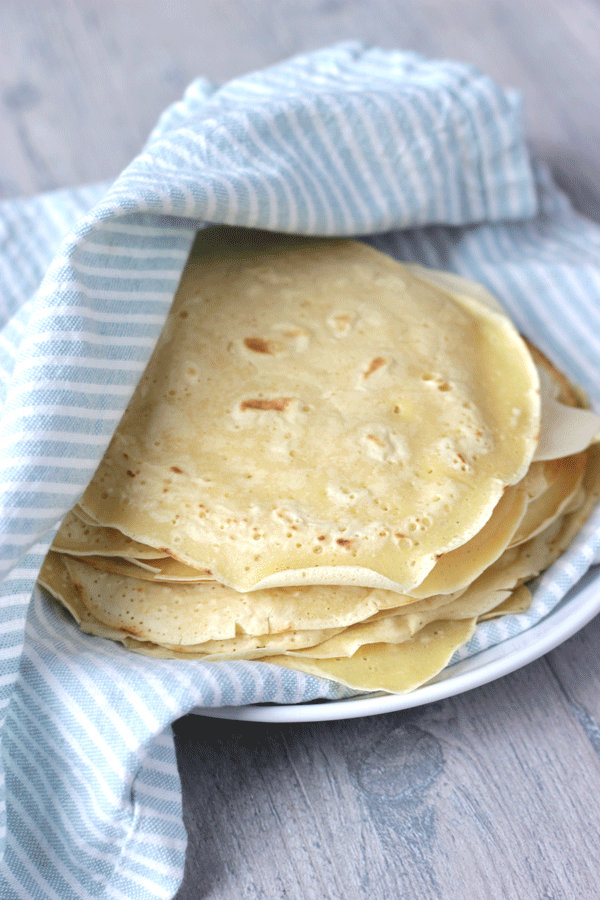 Life right now during the coronavirus pandemic is nothing short of bizarre.  We are sheltering in place and I am the only person leaving our house to go out and get essentials.  I'm doing grocery pickup whenever possible and limiting my exposure inside stores.  And then, I am going home and washing my groceries on our back porch.  Is this real life?  For now it is my friends.  Not forever, but for awhile.
Because people are limiting their exposure to the outside world, they are also hoarding food.  And, I hear that tortillas are a coveted and hoarded item right now.  But do you know what people aren't hoarding?  Chickpea flour and tapioca starch.  Yep.  Now, I post this recipe at the risk that everyone will now go out and start hoarding these items, but please don't do this.  Leave some for the rest of us, okay?
Ingredients in gluten free tortillas
There are just 3 simple ingredients in these gluten free tortillas from scratch: chickpea flour, tapioca starch and water. (And does water even count as an actual ingredient?)
Chickpea flour is also called garbanzo bean or besan flour.  These are all the same thing, so if you get your hands on any of these they will work in this recipe. (If you're looking for more recipes using chickpea flour, try these savory mushroom and spinach muffins.)
Tapioca starch is also sold as tapioca flour and they are the same thing, so can be used interchangeably.
That's it!  Now that you have your ingredients, let's get to making these delicious tortillas.
How to make gluten free tortillas from scratch
This gluten free tortilla recipe makes tortillas that are similar to a flour tortilla.  These tortillas are soft and flexible and easy to roll up for burritos and enchiladas.  They come together quickly and store well in the refrigerator or freezer for later use.
First, preheat a non-stick skillet over medium heat.  Next, whisk together your chickpea flour and tapioca starch in a medium sized bowl.  Add the water and whisk until a smooth batter forms.  When whisking by hand some small lumps may be left in the batter, and this is perfectly okay.  But, if you don't want little lumps in your tortillas, use an immersion blender and blend for 20 seconds to quickly smooth out the batter.
Now, at this point you have to decide what size tortillas you want to make.  I have found a scant 1/4 cup (or about 3 tablespoons) make a perfect 6-inch taco sized tortilla; a full 1/4 cup makes an 8-inch or small burrito sized tortilla; and a scant 1/3 cup makes a 10-inch or full burrito sized tortilla shell.
Using a measuring cup pour your desired amount of batter onto your preheated pan.  Quickly pick up the pan and swirl the batter into a circle, spreading it as thin as you can.  Return to the stove and allow to cook for a couple minutes or until lightly browned on the underside.  Flip the tortilla and cook another 1-2 minutes until lightly browned.  Remove to a wire rack, taking care not to stack them on top of each other until they've cooled.  Repeat with the remaining batter.
For a full tutorial on how to make these tortillas you can watch my video below.
Tips for making chickpea flour tortillas
Play around with different flavors in the tortillas.  Depending on what I am using the tortillas with, I like to add garlic powder, spices, herbs or curry powder to the batter.  This will amp up the flavors in your taco recipe!
Make a large batch at once to have tortillas on hand all week long.  This recipe easily doubles or triples.
To quickly make more than one tortilla at a time, use two pans on the stove.  I can fit two taco sized tortillas at a time in a 12-inch pan.
Don't stack the tortillas on top of each other until they are completely cooled.  I found that they get gummy when they aren't cooled separately.  Cool the tortillas on a wire rack.
These tortillas will keep for two days on the counter, a week in the refrigerator or a month or more in the freezer.
To reheat the tortillas: put them in a skillet over medium heat, cover with a lid and cook for a couple minutes.  This will lightly steam them and restore their flexibility.
What should I serve with gluten free tortillas?
We eat these tortillas several times a week for making sweet potato black bean enchiladas, jackfruit tacos, cauliflower tacos, or substitute the lettuce for tortillas in these chickpea lettuce wraps.  I like to use whatever leftovers we have such as stir fry, roasted veggies, tofu scramble and beans and stuff them into a tortilla shell.  We even slather them in peanut butter and jelly to eat for a quick snack.  Tortilla shells are a blank canvas for creativity in cooking.  So have fun!  Enjoy!
Disclosure: This post contains Amazon affiliate links that earn me a small commission, at no additional cost to you. I only recommend products I personally use and love or think my readers will find useful.