Stretchy vegan cashew mozzarella is perfect grated on pizza and melted in quesadillas and grilled cheese sandwiches.  This vegan mozzarella cheese recipe stretches, melts and is a perfect substitute for regular mozzarella cheese.
Stretchy vegan cashew mozzarella is my second vegan cheese recipe in a week.  Could it be that I am on a quest to convince you that a dairy-free diet isn't so bad?  This dairy-free mozzarella is stretchy and gooey and perfect on pizza, pasta, grilled cheese or quesadillas.  It shreds, it stretches, it melts…what's not to love?  Seriously.
When I took dairy out of my diet a few years ago, pizza was the thing I missed the most.  I'd stare longingly at those around me as they scarfed down pizza. The smell alone was enough to make me weak in the knees.  Several times I let my willpower fail me.  I ate that pizza and my stomach and sinuses did not thank me afterwards.  I needed help!
The vegan cheeses I found in the grocery store were just okay.  I started doing some research and found a recipe similar to this stretchy vegan cashew mozzarella.  The original recipe I found stretched, but was more like a sauce than a solid traditional fresh mozzarella.  After what feels like endless batches of mozzarella (not that I'm complaining), I have finally come up with a recipe that I am very pleased with.  I can eat pizza again that is delicious!  And my willpower, stomach and sinuses thank me very much.
How to make Stretchy Vegan Cashew Mozzarella
Vegan Mozzarella is quick to make with just a blender and a saucepan.  First, dump all the ingredients in the blender.
Some of the ingredients may be new to you if you're just starting off on a dairy-free diet.  Many of these ingredients are common in plant-based and gluten free recipes, so if you're making the dive into this way of eating it's worth investing in some of these staples.  The ingredients in this mozzarella are: cashews, tapioca starch, nutritional yeast, salt, garlic, olive oil and vinegar.  I'll talk more in a minute about nutritional yeast and tapioca starch, which may be new to some of you.  If you don't have a high powered blender such as a Vitamix or Breville, you'll want to soak the cashews for at least 8 hours before blending.
Next, you pour the liquified cashew mixture into a saucepan.  Can you believe that's going to be cheese in a minute?!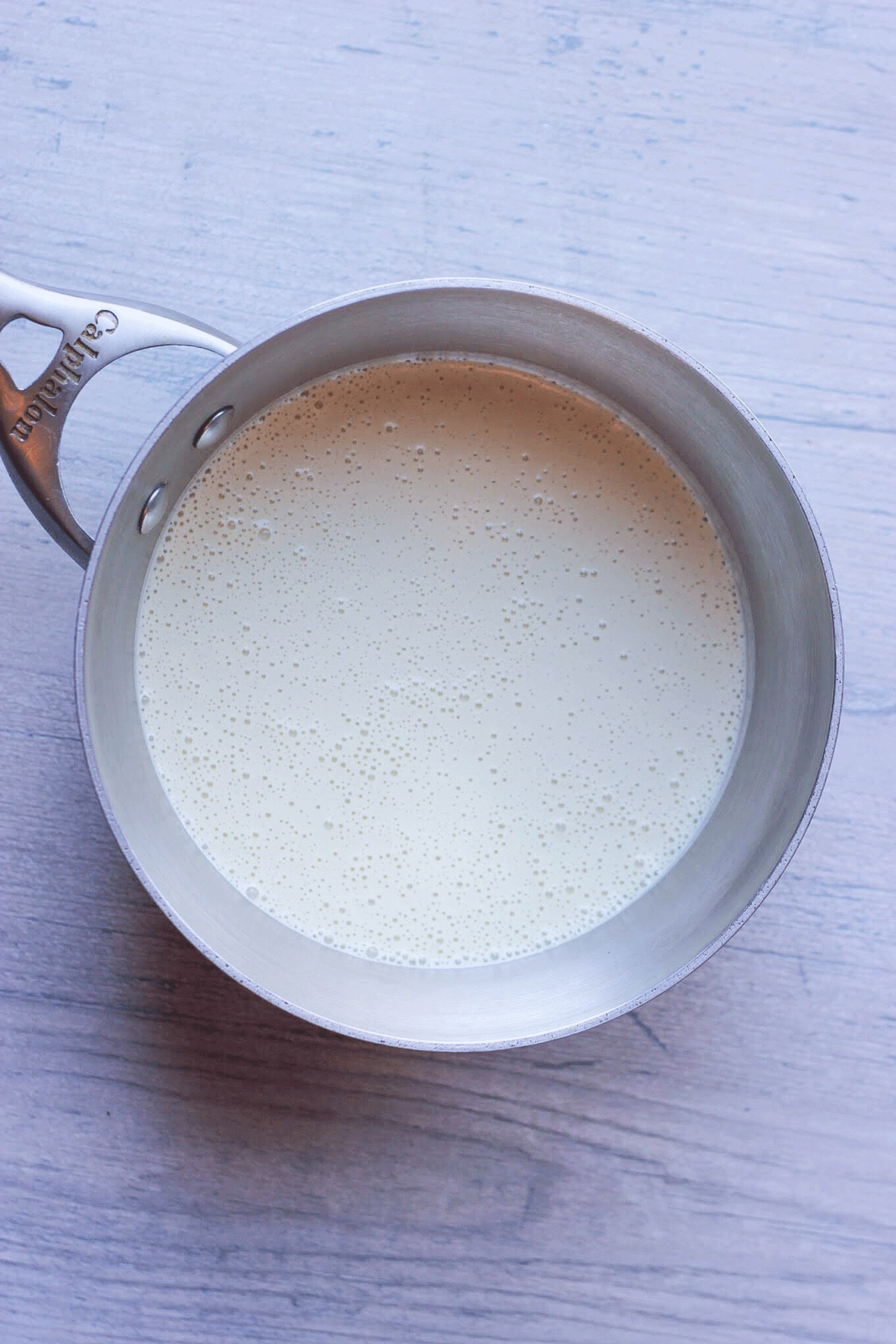 Finally, you stir this mixture continuously with a silicone spatula for 3-5 minutes over high heat.  During this time the mixture will start to look curdled.  This is okay.  I promise.  Keep stirring, being sure to scrape the bottom of the pan with the spatula so it doesn't burn.  Eventually the mozzarella will come together in a beautiful cohesive blob.  Turn off the heat and your cheese is ready to use!
What is Nutritional Yeast?
If you want to get technical, nutritional yeast is derived from a species of yeast known as Saccharomyces cerevisiae. Not so technical: nutritional yeast is an inactive form of the yeast that is used in bread baking.  Because the yeast is inactive, it can't be used as a leavening agent in baking in the same way as active yeast.  Nutritional yeast has a cheesy flavor when added to pestos and sauces, and is used often in plant-based cooking as a cheese substitute.  Nutritional yeast contains vitamin B-12 and it is the only plant-based food that contains this essential vitamin.  Vegans can easily become deficient in vitamin B-12 and need to take a supplement to ensure they have adequate levels in their bodies.  Eating nutritional yeast is a great way for vegans to add additional vitamin B-12 to their diets.
What is Tapioca Starch?
Tapioca starch, or tapioca flour, comes from the root of the cassava plant.  Tapioca starch can be used to thicken sauces and is used frequently in gluten free baking to give structure and a chewy texture to baked goods.  In our mozzarella recipe it solidifies the cashew cheese and makes it stretchable.
How to use Stretchy Vegan Cashew Mozzarella
Now that you've made your mozzarella, what are you going to do with it?  There are endless ways for you to use it.  Here are some suggestions…
Hot out of the pan: Blob it on pizza, spread it on bread and make grilled cheese or spread it on tortillas for a quesadilla.
Chilled: Chill the mozzarella ball for at least 4 hours.  When chilled it is easier to manipulate and you can cube it for caprese salad skewers, grate it for pizza, slice it thin and layer it in lasagna.  (Note: if you're going to shred it, it will get kind of messy, so I recommend a large hole box grater.  You'll have to mash it onto the grater, but it will come out grated on the other side!)
The possibilities are endless really!  I'm dying to know…what are you going to do with your mozzarella??
Disclosure: This post contains Amazon affiliate links that earn me a small commission, at no additional cost to you. I only recommend products I personally use and love or think my readers will find useful.