Vegan tofu ricotta is creamy, cheesy and easy to make.  This 5-ingredient vegan ricotta takes only five minutes to prepare and will become a quick favorite in your household.  Use this tofu ricotta on pizza, pasta, bruschetta and more!
I was very pleasantly surprised the first time I made this tofu ricotta.  I sneakily added it to a family favorite dish, baked ziti, and sat back to watch the fireworks begin.  Except…there weren't any.  Not one of my picky children breathed a word of distaste.  Wow.  That is the moment I knew I had a winning recipe on my hands.
How to Make Vegan Tofu Ricotta
This vegan ricotta made with tofu comes together in a snap.  Start by crumbling a block of tofu into the bowl of a food processor.  Add nutritional yeast, lemon juice, sea salt and garlic powder.  Next, pulse the mixture until desired consistency is reached.  The longer you process it, the creamier it will become.  Scrape the ricotta into bowl and stir in any optional herbs.  I like to use fresh basil, oregano or thyme, but dried herbs work great in this too.  And you are done!  Pretty simple, right?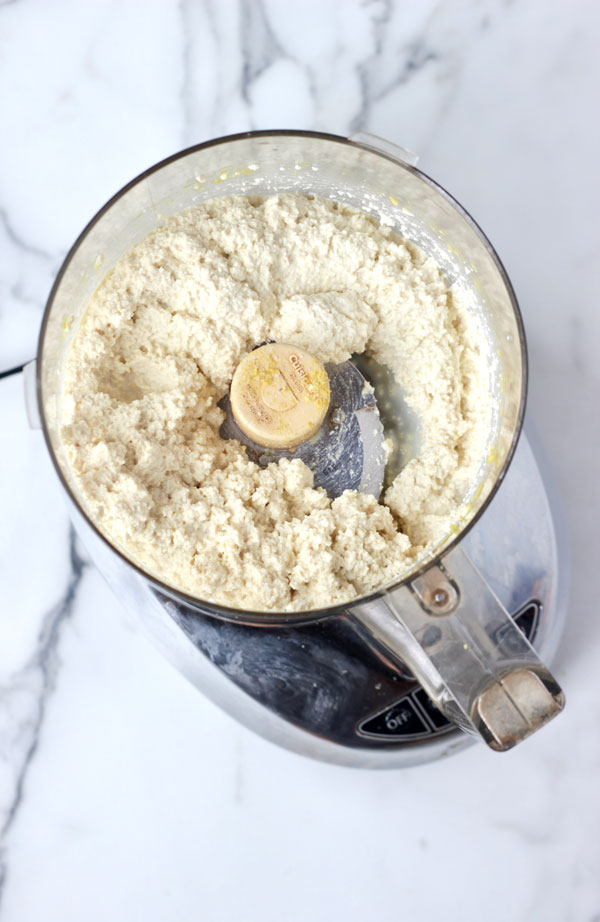 Tips for Making Ricotta
Do not use silken tofu.  This is the tofu that comes in a box and is shelf stable.  Silken tofu is too soft to make a proper ricotta.
Use firm or extra firm tofu to achieve the right texture.
Use any acid in place of the lemon, such as apple cider or white vinegar.
Omit the garlic and use this ricotta in dessert recipes.  Add a sprinkle of cinnamon or nutmeg if desired.
Spice it up by adding onion powder or any other herbs or spices.
How Can I use Tofu Ricotta?
You can use tofu ricotta for most recipes that call for ricotta.  Here's some simple ideas that you could use this tofu ricotta for right away:
Baked ziti
Lasagna
Stirred into pasta with red sauce
Dollop on pizza
Bruschetta topping with roasted tomatoes and basil
Dessert: leave out the garlic and stuff inside cannoli shells, or mix with coconut whipped cream and make berry parfaits
How to Store Vegan Ricotta
This ricotta will keep for 5 days in an airtight container in the refrigerator.  You can also put it in a freezer safe container and freeze for up to 3 months.  Allow to thaw in the refrigerator before using.
Is Soy Bad for You?
I am not going to dive too deep into this issue, but I wanted to at least address it since soy has gotten a bad rap for many years.  The short answer is: no, soy is not bad for you.  There is lots of fascinating research out there right now about soy and its effects on health.  There is mounting evidence that soy is actually good for you and may prevent cancer.  I highly recommend watching Dr. Greger's Nutrionfacts.org videos on this topic for more detailed information based on solid medical research.
Tofu is a versatile food that has many health benefits.  It is rich in protein, calcium and iron so it adds a nutritional punch to your recipes.  Additionally, tofu contains all 9 essential amino acids, making it a complete protein.
What will you make with this vegan ricotta?  Tell me in the comments below! Enjoy!