Vegan cashew queso is thick, rich, creamy, and ready in under 10 minutes. Serve this queso dip with fresh veggies, tortilla chips, or on loaded potato nachos, and it will quickly become your favorite appetizer or snack.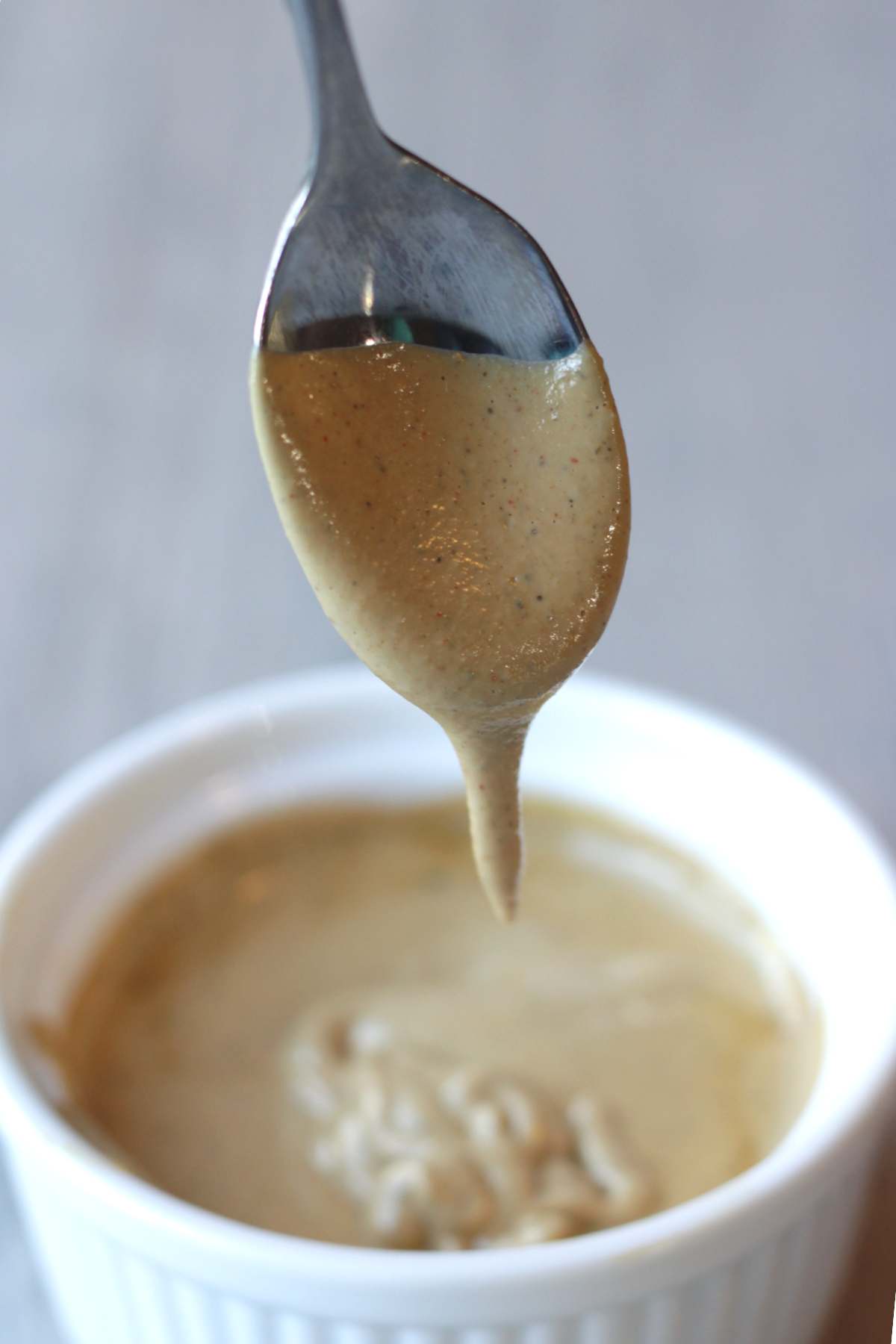 Every time I tell someone that I don't eat dairy, they always respond: I love cheese! I could never give it up! I know it seems daunting, and no fun at all to give up cheese, but I assure you, it's not as hard as you may think. Especially if you have tricks up your sleeve like this vegan cashew cheese queso.  I have brought this to many potlucks where people have raved and asked for the recipe...and then stared at me gape-jawed when I tell them it's made from cashews. Don't you just love surprises?!?
I gave up dairy about 3 years ago at the suggestion of my holistic doctor. I was having chronic sinus infections and major digestive problems (I'll spare you the details), and she urged me to give it up for a month and see how I felt. It turns out I felt amazing. A fog lifted from my brain, and my digestive system started working correctly. And, I've never had a sinus infection since. It was literally life-changing. After living with chronic sinus infections and headaches for years, I felt free.
The thing about cheese, or anything really, is once you get it out of your system, you don't crave it anymore. The first week was hard, but after that, I didn't think about cheese or dairy that much. The biggest challenge is finding ways to still enjoy your favorite foods without cheese. That's where this vegan cashew cheese queso comes in. This recipe is very versatile and can be flavored with cumin, chili powder, and oregano for a southwestern flair. Or, use basil, garlic, and oregano for an Italian flavor. I've used this queso as both a sauce and a topping for pizza. I've also used it as a dip for tortilla chips and veggies, as a sauce for tacos, drizzled over enchiladas, and thinned out and used as a salad dressing. Its uses are endless.
How to make Vegan Cashew Cheese Queso
The first thing you will need when you make vegan cashew cheese queso is a blender. It will work best if you have a high-powered blender like a Vitamix, but a regular blender will work too. If you don't have a Vitamix, you'll want to soak the cashews in water for 8 hours prior to blending. Then, you plop all the ingredients into the blender, turn it on high, and blend away! If you're using a Vitamix, it will take 2-3 minutes to create a thick creamy queso. If you're using a regular blender or food processor, it'll take 5-8 minutes, depending on your machine. You can enjoy it right away or put it in an airtight container in the fridge for up to a week, but I guarantee it won't last that long!
My Vitamix was absolutely instrumental in moving to a dairy-free diet. I bought a refurbished Vitamix about 5 years ago, and after daily use, it is still going strong. A refurbished Vitamix is less expensive than a brand new one, and in my experience, is just as awesome. You'll use it to make vegan cheeses such as this, as well as sauces, salad dressings, and smoothies. It is an absolute staple in our kitchen!
Here's the final result...how can you resist this?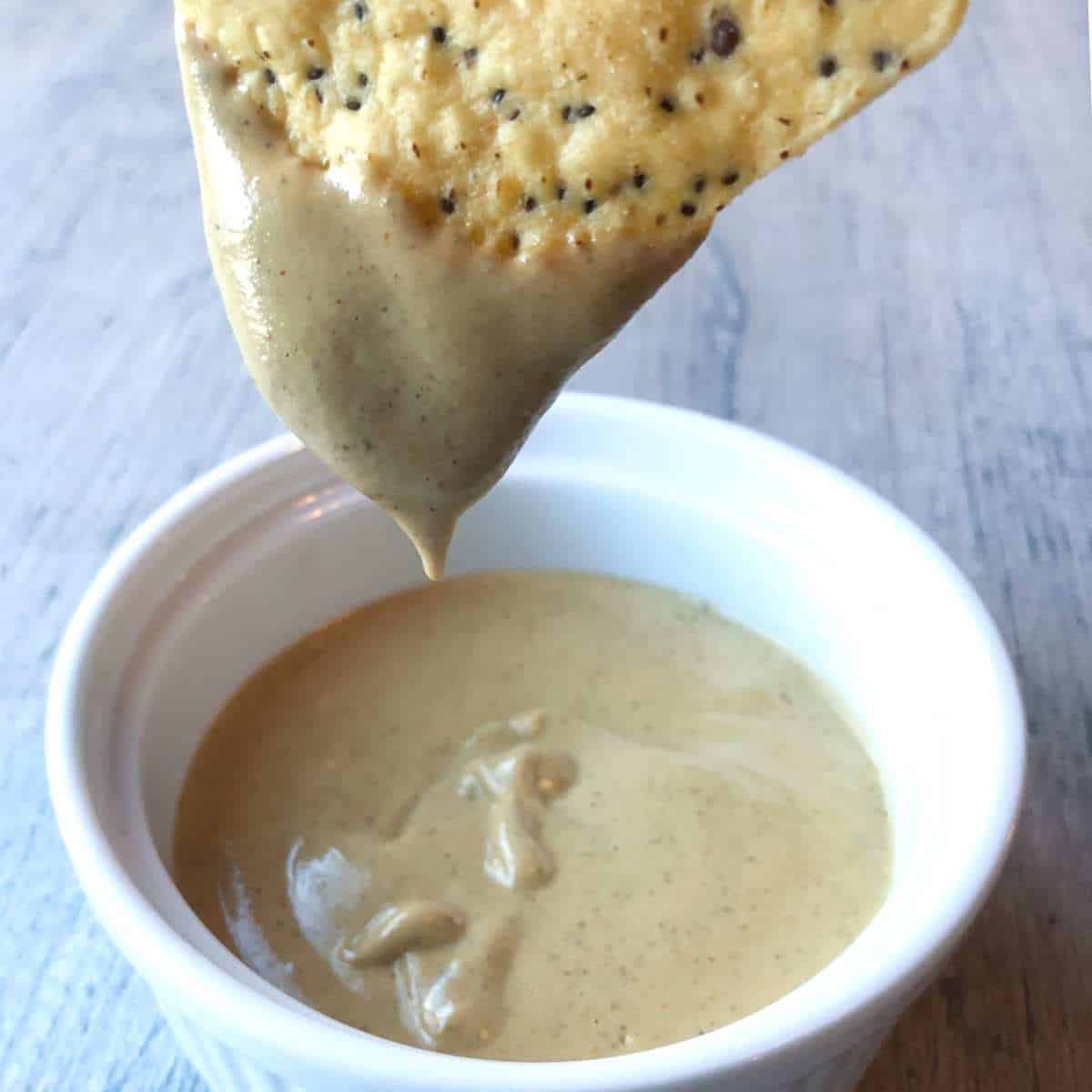 Did you make this recipe?
Please leave a rating and tell us how you liked it!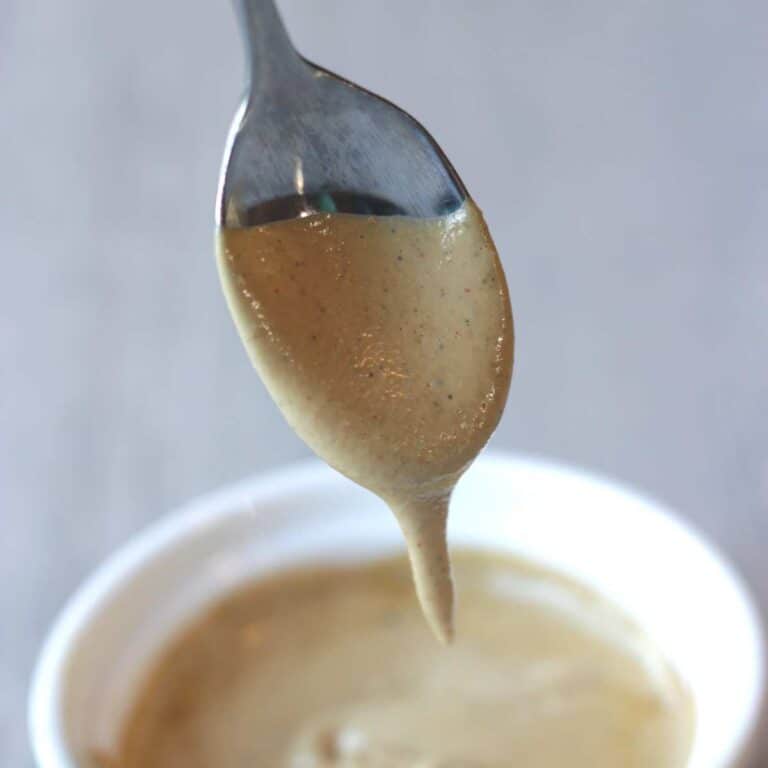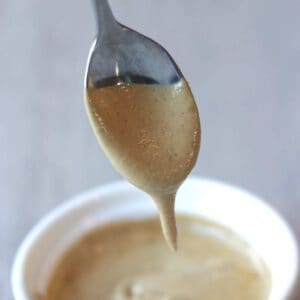 Vegan Cashew Cheese Queso
Vegan Cashew Cheese Queso that is creamy and versatile. Use this as a dip for veggies and chips or as a sauce on tacos, pizza or enchiladas.
Print
Pin
Rate
Ingredients
1

cup

raw cashews

soaked 8 hours if you don't have a high powered blender

3

tablespoons

nutritional yeast

or to taste

½

teaspoon

sea salt

1

clove

garlic

or to taste

1

teaspoon

ground cumin

1

teaspoon

chili powder

½

teaspoon

dried oregano

¾-1

cup

water

depending on desired consistency
Instructions
Add all ingredients except water to a blender.  Add ¾ cup water, then blend on high for 2-3 minutes if using a high powered blender (such as a Vitamix), or 5-8 minutes if using a regular blender.  Blend until completely smooth and creamy.  Add more water to adjust to desired consistency.  ENJOY!
Nutrition
Calories:
136
kcal
|
Carbohydrates:
9
g
|
Protein:
6
g
|
Fat:
10
g
|
Saturated Fat:
2
g
|
Sodium:
203
mg
|
Potassium:
229
mg
|
Fiber:
2
g
|
Sugar:
1
g
|
Vitamin A:
99
IU
|
Vitamin C:
1
mg
|
Calcium:
14
mg
|
Iron:
2
mg