This post may contain affiliate links. Please read my disclosure.
Vegan Jackfruit Taco Filling is a quick weeknight dinner that will leave you satisfied. Jackfruit is cooked with chili powder, cumin, and oregano for a vegan taco filling that is irresistible! Serve these with lots of shredded cabbage and Fresh Mango Salsa.
Everyone ends up full and happy after taco night because these jackfruit tacos are packed with plant-based goodness! Held within a soft, homemade vegan tortilla, these tacos are sure to become a weeknight dinner staple.
Tacos are a blank canvas for any flavor or spices you're craving. It's so fun to get creative with taco fillings like in smoky cauliflower tacos.
But, when it comes right down to it, who doesn't love the classic taco spices that you'd find in a packet of taco seasoning: cumin, chili powder, garlic, and oregano?
This recipe is the classic I just described, but feel free to get creative. Jackfruit soaks up whatever you sauce or spice it with, so try tossing it in the jerk sauce from my Jerk Tofu recipe or a barbecue sauce.
Use chickpea tortilla chips to scoop up any leftover jackfruit taco filling or fresh mango salsa!
Jump to:
What is Jackfruit?
What? You've never heard of jackfruit? Well, neither had I until less than a year ago. It has gained in popularity recently as plant-based diets have become more mainstream. Jackfruit is exactly what it sounds like, a fruit. You can buy it whole in the produce section of Asian markets and specialty food stores. Or, you can take the easier way and buy it in a can, as I do. Make sure you buy young jackfruit, as this will not be sweet. This is the brand I can find in the Asian food aisle of my local grocery store and on Amazon.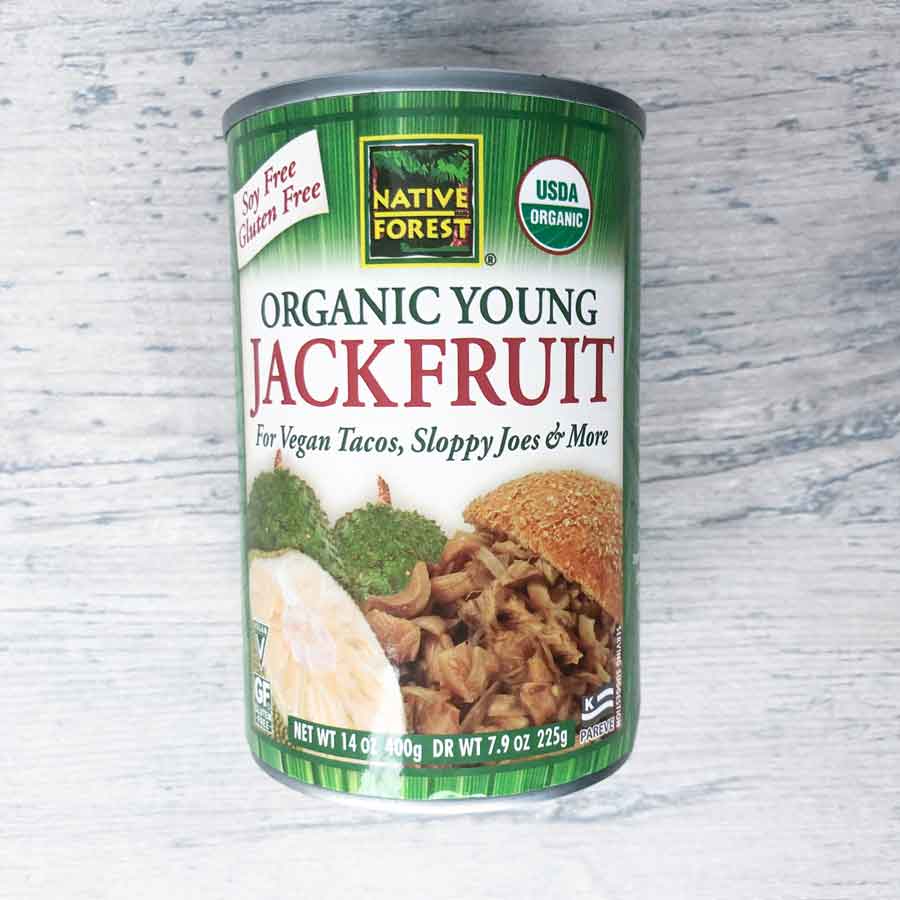 When used in its unripe form, jackfruit is not sweet and is an excellent chicken or pork substitute. It is shreddable and has a texture similar to that of shredded meat. Cool. This said, jackfruit is not a great protein substitute. It contains just 2 grams of protein per ½ cup, so if you're looking for protein, you may also want to throw some beans on your taco. But, what it lacks in protein it makes up for in other dietary categories. Just a half cup of jackfruit contains 20% of your daily iron and 6% of your daily calcium needs. It also contains 7 grams of fiber, is high in antioxidants and contains a measly 40 calories. Plus, it is dreamy on tacos. So, let's talk about that now.
How to prepare jackfruit taco filling
Jackfruit can come packed in water or syrup. Make sure to buy the kind packed in water and thoroughly rinse the jackfruit to get off as much salt as possible. If you buy the kind packed in syrup you are buying a sweetened version of jackfruit, and that's just not good taco material.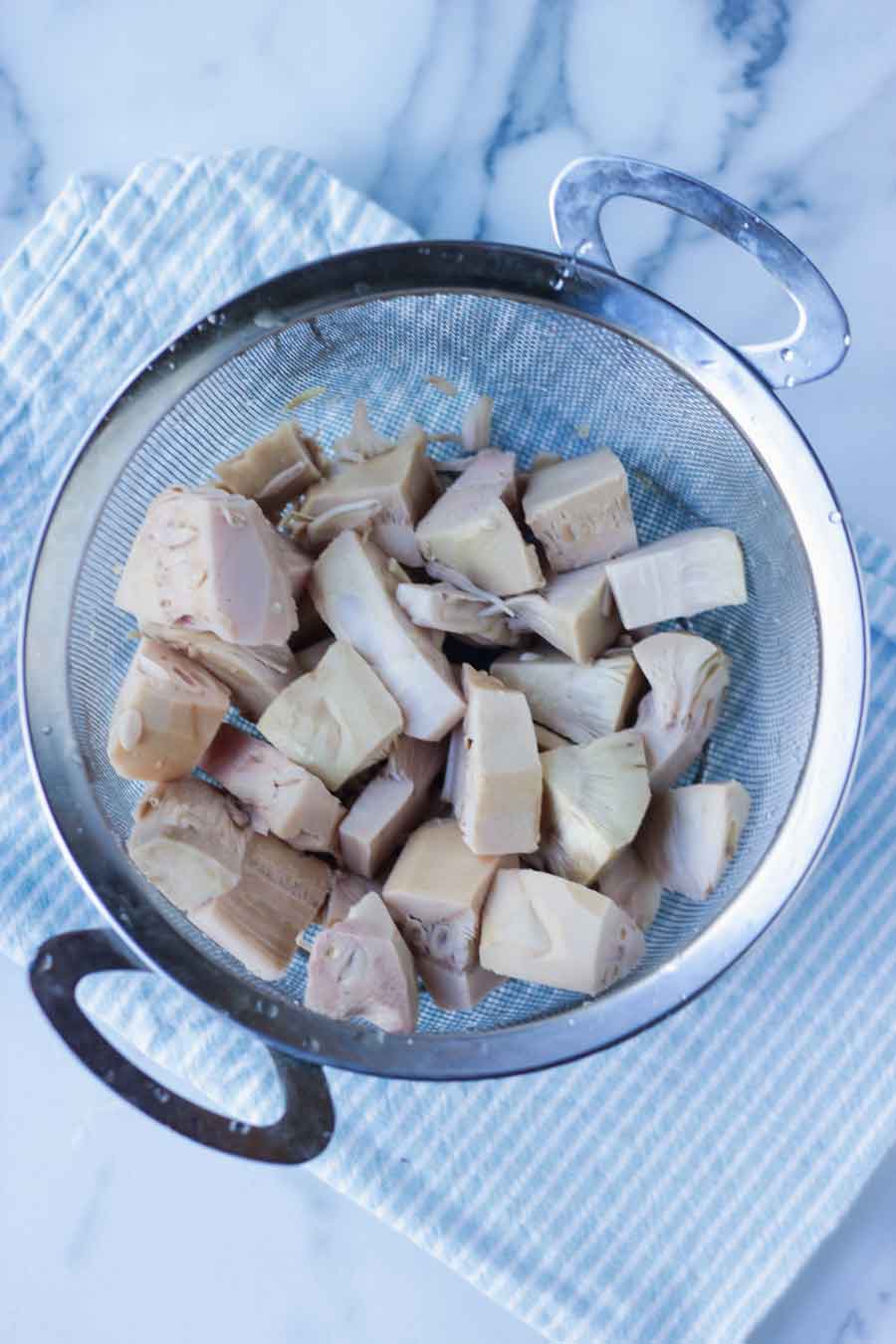 Once you've rinsed the jackfruit, put it on a cutting board. The jackfruit comes in pieces that have a firm core attached to it, but don't throw the core away! You can eat this too, and this will be part of your taco filling.
This is what the jackfruit pieces look like before and after cutting.
When cutting the jackfruit, cut along the edge of the core and fruit. The fruit will fall away easily, and you'll just need to pull it apart with your fingers to shred it.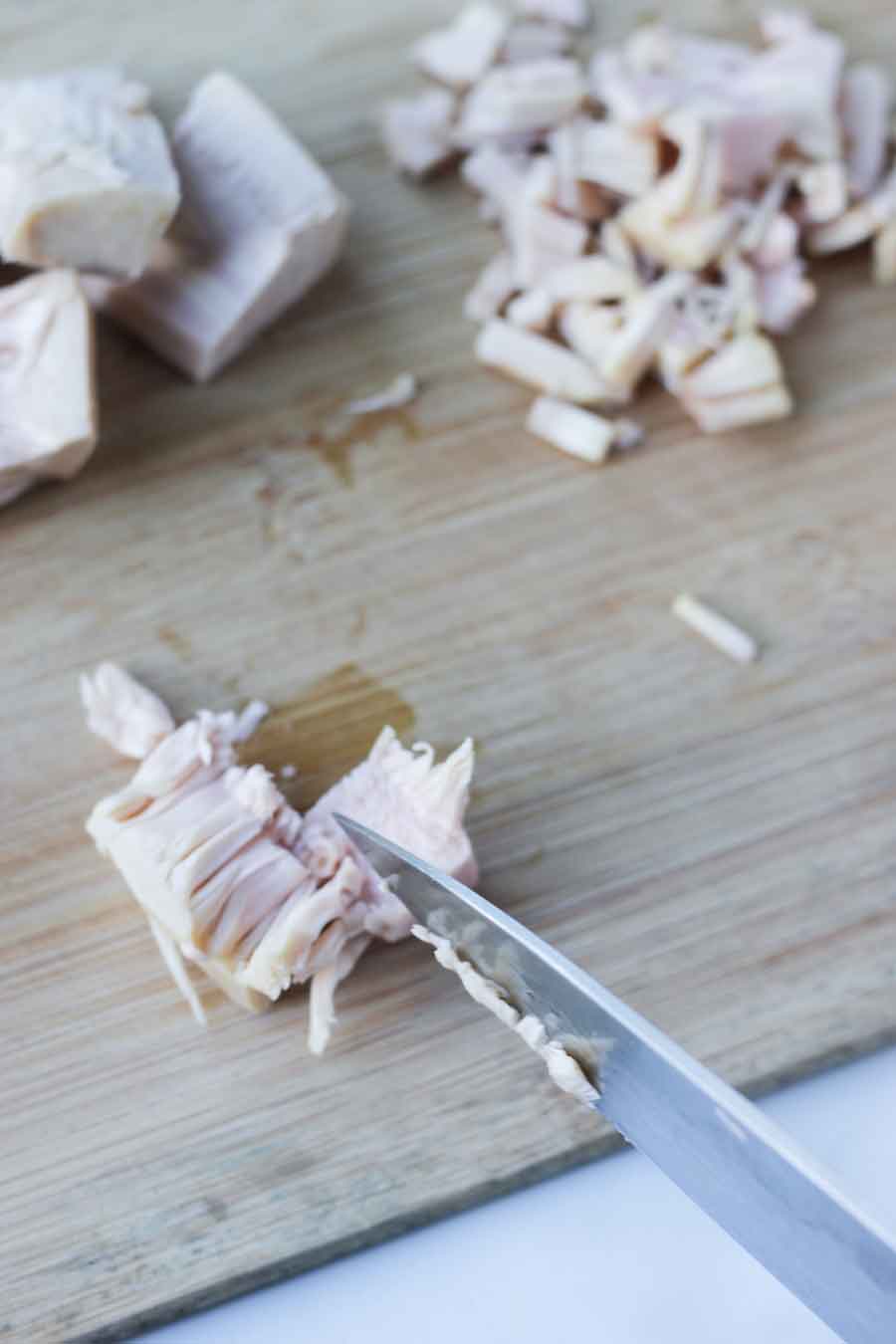 Cut the core into thin slices and then chop a little more to give it a shredded texture.
Now that you have the jackfruit chopped, it's time to cook it. I like to saute some onion and garlic before I add the jackfruit. Once the onion and garlic are sauteed, add the jackfruit, chili powder, cumin, and oregano. Stir and saute for 30-60 seconds to toast the spices. Add ½ cup water or vegetable broth, cover, and simmer for 5 minutes. This will soften the tough core pieces of jackfruit and infuse it with flavor from the spices and onion.
Remove the lid and give the jackfruit a stir. Continue cooking over medium-low heat until most of the water is evaporated. Your jackfruit taco filling is ready to use!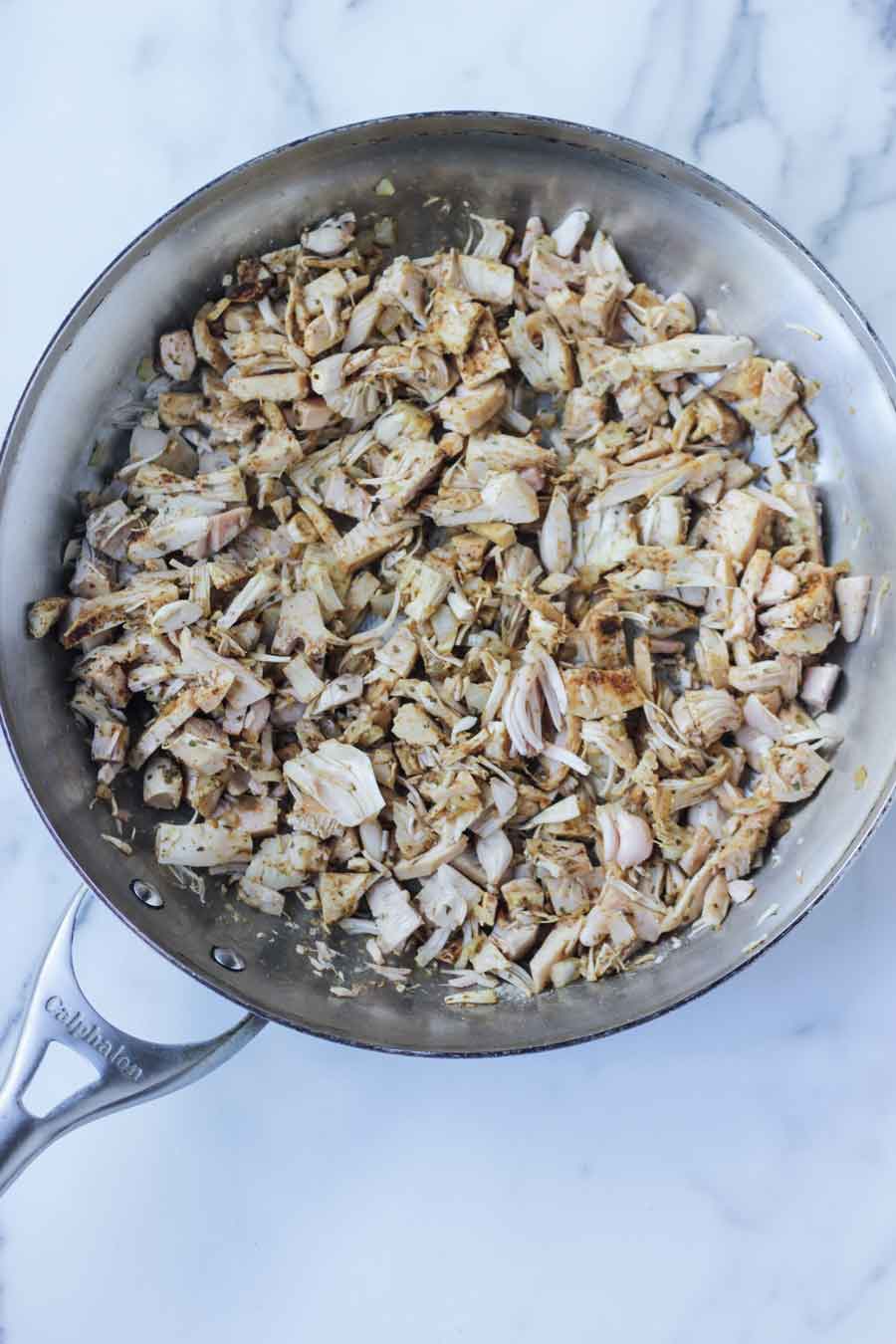 How to Assemble Jackfruit Tacos
I love to eat these tacos with my gluten-free tortillas, mango salsa, shredded cabbage, cilantro, and brown rice on corn tortillas. Another combination I love is a classic with tomato, onion, lettuce guacamole, and cashew cheese queso. Jackfruit fajitas with sauteed peppers and onions are a winner too. I like to make a big taco bar in the middle of the table and everyone has fun assembling their own. Serving anything family-style at dinnertime allows our kids to feel empowered to make their own healthy decisions. And tacos are a sure win for us!
No matter what you top your jackfruit tacos with, it's sure to become an instant classic in your household. What are your favorite taco toppings? Leave a comment below and let me know!
More Vegan Main Dishes
Did you make this recipe?
Please leave a rating and tell us how you liked it!
📖 Recipe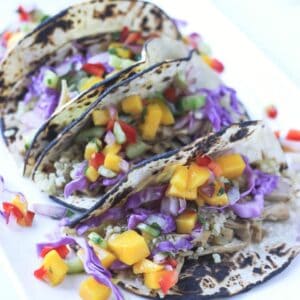 Vegan Jackfruit Taco Filling
Vegan Jackfruit Taco Filling is a quick weeknight dinner recipe that is packed full of flavor. It's sure to be an instant hit at your dinner table.
Print
Pin
Rate
Ingredients
2

14-ounce cans

young jackfruit,

packed in water

¾

cup

water,

divided

¼

onion,

diced

2

cloves

garlic,

minced

1

teaspoon

chili powder

1

teaspoon

ground cumin

1

teaspoon

dried oregano

salt,

to taste
Instructions
Drain the jackfruit and rinse under water to remove the salt. Cut the jackfruit pieces along the core. The fruit part will shred easily between your fingers. Shred and set this aside. Thinly slice the core and then roughly chop and add to the pile with the shredded fruit. (See photos above for further instruction.)

In a large skillet, over medium heat, add ¼ cup water, onion and garlic. Saute until softened and lightly golden brown, about 5-7 minutes. Add the chili powder, cumin and oregano and cook, stirring constantly until fragrant, about 30-60 seconds.

Add jackfruit to the pan and the additional ½ cup water. Bring to a boil, then cover and reduce to a simmer. Simmer for 5 minutes. Remove the lid and continue cooking until most of the water is evaporated. Taste for seasoning and add salt and additional spice as necessary. Your jackfruit is ready to eat!

Serve on chickpea flour tortillas with your favorite taco toppings. I like serving this jackfruit filling with mango salsa, shredded cabbage, cilantro, and brown rice.. Enjoy!
Notes
Nutrition facts are for the jackfruit only, and does not include tortillas or any additional toppings you may add to your tacos.
Nutrition
Calories:
24
kcal
|
Carbohydrates:
5
g
|
Protein:
1
g
|
Fat:
1
g
|
Saturated Fat:
1
g
|
Sodium:
106
mg
|
Potassium:
103
mg
|
Fiber:
4
g
|
Sugar:
1
g
|
Vitamin A:
74
IU
|
Vitamin C:
1
mg
|
Calcium:
32
mg
|
Iron:
2
mg