Black Bean Tortilla Soup is vegan, gluten free, packed full of flavor and is an easy weeknight meal.  Black beans are combined with celery, cumin, chili powder, corn and tomatoes to pack a ton of nutrition into this simple soup. This soup can be made in about 25 minutes to have dinner on the table in a snap!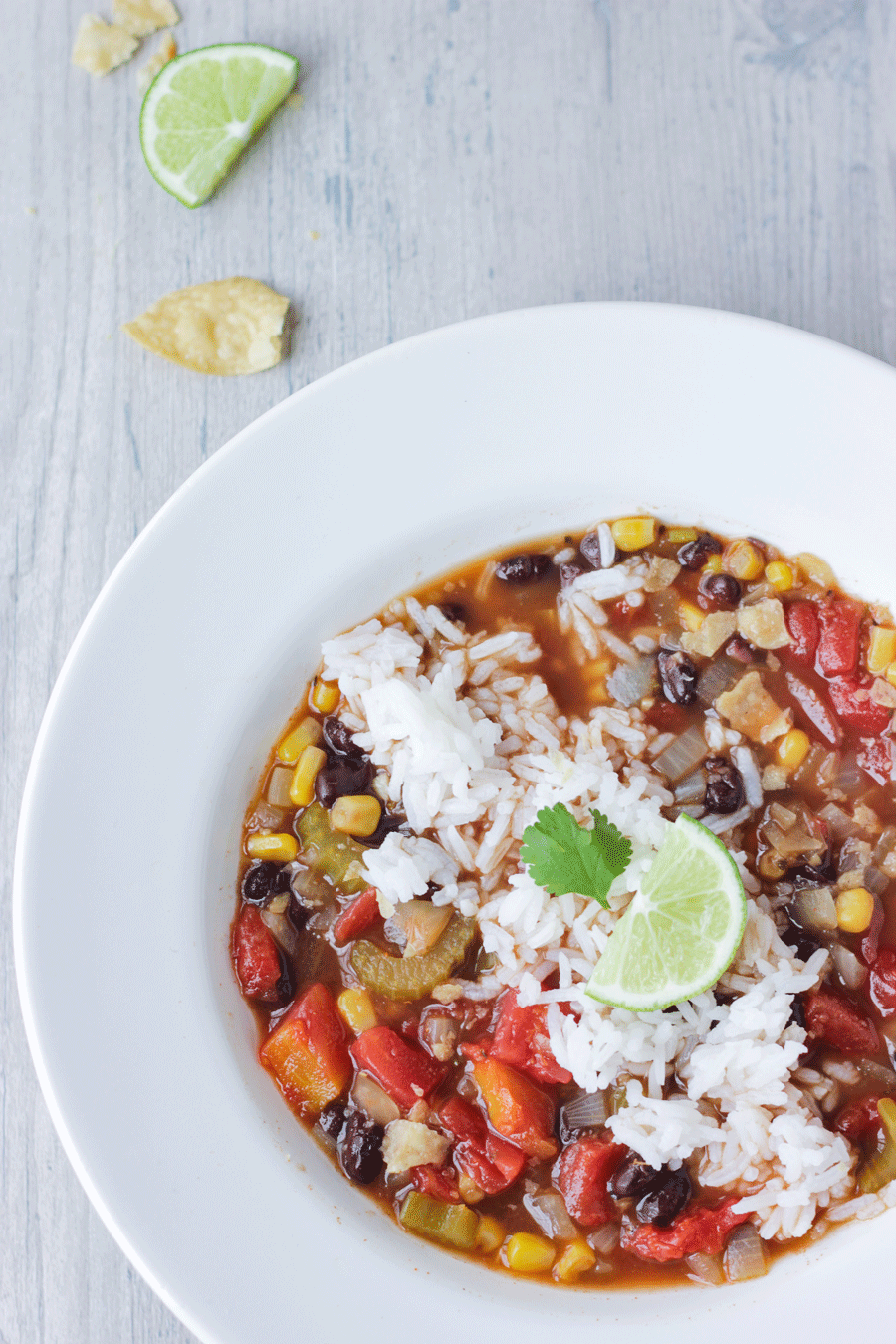 Since its still a bit chilly and rainy here in Minnesota, I thought I'd use it as an excuse to sneak a soup recipe onto my blog before the warm weather hits.  Although at this point, I'm not convinced it's actually coming.  Minnesota weather has made me extremely weary this year.  SAD (seasonal affective disorder) is still in full swing over here.
Soup is a comfort food for me.  Warm, nourishing and often served with warm bread, it lifts me up when I'm feeling down.  Needless to say, we eat a lot of soup in the colder months; yet I don't have a single soup recipe on here yet.  What the heck?!  I'm here to remedy that.  And since we're coming up on Cinco de Mayo this week, it seemed that this would be a great addition to your celebrations!
How to Make Black Bean Tortilla Soup
Normally, I tend to stray away from eating a lot of things out of cans.  But there are times that cans come in handy for a quick, hearty meal.  This soup is one of those times.  Although, you could definitely make this meal using Instant Pot black beans, and whole tomatoes and chiles if you have them on hand.
This soup starts with a simple base of onion and celery.  First, in a medium soup pot saute the onion and celery in a little vegetable broth, water or oil until softened and slightly browned.  Next, add the garlic, cumin, chili powder and oregano and cook until fragrant 30-60 seconds.  Toasting your spices before adding liquid intensifies their flavors and adds more depth to your dishes.
Once your spices are all nice and toasty, add some broth, black beans, tomatoes, corn, and optional green chiles for an added kick.  Let this simmer for about 10 minutes, stir in the lime juice, and then it's ready to serve!  Whoa, that was fast!  Crush some tortilla chips on top and serve a few extra for dipping on the side, if desired.  I always desire.
What do I serve with Tortilla Soup?
This soup is perfect just like this.  But, if I happen to have some leftover rice or quinoa laying around I'll add a scoop on top for some additional flavor and texture.  I don't like to add rice to the soup while it's cooking because, if there's leftovers, it tends to get bloated and mushy. (And those aren't words you want associated with anything you eat.)
I also like to garnish it with chopped cilantro and a lime wedge for added flavor.  Once you've added all these delicious toppings – ENJOY!
What's your favorite easy weeknight supper?  Leave me a comment below and let me know!
Looking for other easy weeknight meals?  Checkout my Thai Peanut Noodle Salad or Oven Baked Falafel.