Instant pot black beans are quick and easy to make and have a texture that rivals canned beans.  These instant pot black beans require no soaking so you can have perfectly cooked black beans in about an hour!
I am highly aware that I am late to the Instant Pot craze.  But, since my initiation I've decided that I am never going back.  I have been Instant Potting (that's the correct terminology right?) everything in sight.  Soup, beans, rice...all the food!  My newfound love for the Instant Pot started just before the covid-19 hoarding began, so thankfully I haven't been deprived of the multitudes of canned beans I used to buy every week.  The Instant Pot has saved me.
Dried Beans Versus Canned - A Cost Analysis
Economically speaking, dried beans are a better alternative to canned beans.  Let's take a look:
A 1-pound bag of black beans costs on average about $1.50 and yields approximately 6 cups of cooked beans.
The cost of a can of beans is all over the place, but as an average they're about $1 per can. A 15.5-ounce can of beans contains about 2 cups, so it would cost about $3 for 6 cups of beans.  Double the price of dried beans.
Of course, these prices are just averages and the savings could be a lot more or less depending on which brands of beans you're comparing.  But you get the point.  There is a definite price advantage to dried beans versus canned beans.  If you eat a lot of beans like we do, this cost savings can add up!
To Soak or Not to Soak Beans...That is the Question!
I used to avoid dried beans because I could never get my act together and remember to soak my beans the night before.  With the instant pot this is not a problem anymore!  I can do crazy things like decide mid-morning to have rice and beans for lunch, and actually make it happen! I can go from dried beans, to perfectly cooked beans in about an hour.
There is a lot of debate out there about whether or not to soak beans before cooking.  Soaking beans can make them less flavorful and reduce some of their water-soluble nutrients.  But, people that are new to eating beans, or experience a lot of flatulence say that soaking them helps their bodies digest them better.  I believe this is true, but there are ways around this.  Here's some ways you can have your un-soaked beans and eat them too!
Many claim that the process of pressure cooking their beans has eliminated their, uh, gassiness.
Cooking beans with a strip of kombu (a form of dried sea kelp) provides the enzyme needed to break down the starches in beans and make them more digestible.  It will not make your beans taste fishy, but adds a subtle earthy undertone.
People have reported that adding a tablespoon of apple cider vinegar after cooking will make beans more digestible.
Adding beans to your diet on a regular basis is the easiest way to make them digestible over time.  If you're new to eating beans, start slow.  The more beans you eat the easier it is for your body to digest them and the less flatulence you will have.  Our family eats beans every single day and I am happy to report that there is no excessive flatulence in our house!
How to Make No Soak Instant Pot Black Beans
Making no soak black beans in the Instant Pot is as easy as rinsing, sorting and pushing a button.
Rinse - Always rinse dried beans before sorting.  Depending on how they were stored prior to purchasing them, beans may have field dust or other contaminants on them that need to be removed.  I prefer to submerge them in a bowl of water, then pour them into a strainer and rinse again.
Sort - It's important to do a quick sort through your beans.  Occasionally you will find a small pebble or other debris in with your dried beans, and you definitely don't want to bite into that!  Remove any debris, pebbles or shriveled beans and throw them away.
Add one pound of beans, four cups of water and optional salt, onion, garlic or other aromatics to the instant pot.  Secure the lid and set the pressure cooker to high for 30 minutes.  It will take about 10 minutes to pressurize and then it will begin to cook.
Allow the steam to release for 20 minutes and then manually release the rest.
This recipe makes beans that are a little saucy, so there will be a little excess liquid in the pot.  You can drain the beans, or store them in their liquid in the refrigerator.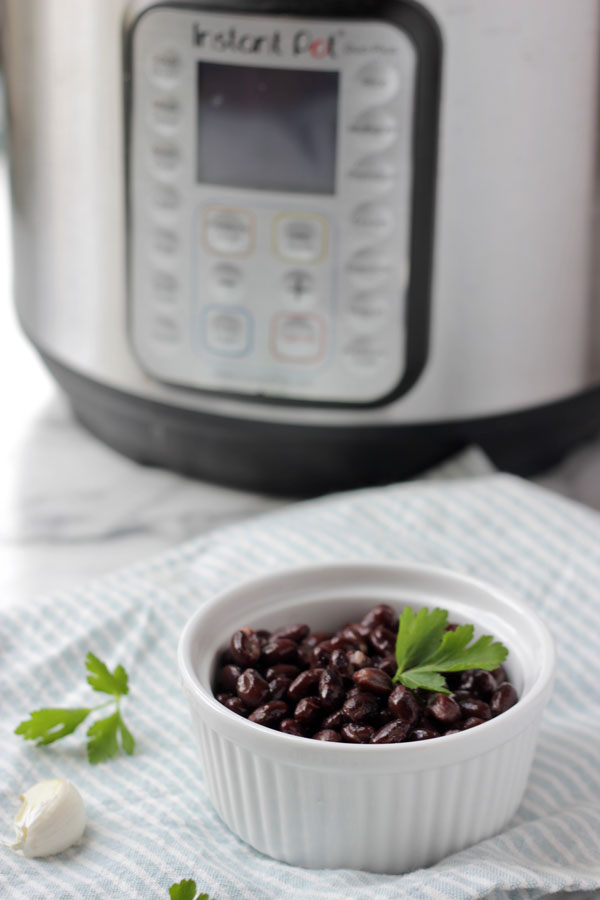 How to Flavor Instant Pot Black Beans
This recipe is for very basic black beans, but you can easily add flavor to them.  I'll often throw ½ an onion or a few cloves of garlic in the instant pot before cooking to impart a savory flavor.  You could also add chili powder, cumin, chopped bell peppers, bay leaves, jalapenos or other other chile peppers to spice it up.  Replacing some or all of the water with vegetable broth is another way to amp up the flavor.
How Do I Convert Dried Beans to Cooked Beans for a Recipe?
One cup of dried beans is equivalent to 3 cups of cooked beans.
One 15.5 ounce can of beans is about 2 cups.
This recipe for 2 cups of dried beans and will make about 6 cups of cooked beans, or about 3 cans.
If you want to cook only the amount you need for a recipe that calls for one 15.5 ounce can, cook a heaping ½ cup of dried beans.
How to Store Cooked Black Beans
Refrigerator - Store beans in their cooking liquid in an airtight container in the refrigerator for up to 5 days. If the cooking liquid doesn't cover the beans, add a little more water so the beans are fully submerged.
Freezer - Store beans in their cooking liquid in an airtight container in the freezer for up to 6 months.  If the liquid doesn't cover the beans, add a little more to fully submerge them.  I like to store beans in mason jars in the freezer.  You can also use freezer bags or other freezer safe containers.  When you're ready to use them, pull them out of the freezer the day before and allow them to thaw in the refrigerator.  If you don't think that far ahead, you can run them under hot water until the liquid starts to melt inside and then dump them into a saucepan to heat.
What Recipes Can I Make Using Black Beans?
Black beans are very versatile and can be used in many different recipes...even brownies! (Just make sure you don't add garlic or other savory ingredients to the pot when you're cooking them!)  Try these great recipes if beans are new to your diet:
Disclosure: This post contains Amazon affiliate links that earn me a small commission, at no additional cost to you. I only recommend products I personally use and love or think my readers will find useful.