These vegan breakfast burritos are loaded with potatoes, beans, salsa, and scrambled tofu.  These easy breakfast burritos are plant based, gluten free, oil free and have a soy free option.  Plus, the burritos are freezable, so you can make them ahead and eat them all week long!
Savory breakfasts are always what my body craves.  (I know, the chocolate buckwheat porridge I posted recently contradicts that statement. But chocolate for breakfast has to happen once in awhile!)  Eggs are comforting and savory and I used to love them so much.  But they didn't make my tummy feel good at all, and they had to go! So, when I took eggs out of my diet I had a hard time with breakfast for awhile.  I ate a lot of salads, beans and tofu scramble, but none of these things kept me full long enough. Until one morning...
I found myself staring at some leftover tofu scramble and a stack of tortillas and it hit me... breakfast burritos!  Duh.  All this time I'd been missing out on such an obviously delicious and filling breakfast option!  Out of this eureka moment these whole food plant based breakfast burritos were born.
Ingredients and Substitutions
These vegan breakfast burritos are stuffed full of deliciousness.  Feel free to alter the ingredients as you see fit or depending on what you have around.
Potatoes - I most often use russet or yellow potatoes, but have also used sweet potatoes which are just as delightful!  I've also chopped up leftover garlic smashed potatoes and then reheated them in a pan.
Beans - Black beans are my absolute favorite, but any bean will work here such as pinto, kidney, chickpeas or lentils.  I like to use my instant pot black beans because they're so flavorful and I prefer the texture of them over canned beans.  That being said though, canned beans are perfectly acceptable to use here and won't be bad at all!
Salsa - Use any store bought or homemade salsa you have on hand.  I use a mild salsa because I am a wimp, but feel free to spice it up!
Tofu Scramble - Tofu scramble makes an amazing vegan scrambled egg substitute.  If you're avoiding soy you can substitute 2 cups of chopped mushrooms.  Sauté the mushrooms with a pinch of salt and then add to the burrito in place of the scramble.
Tortillas - A large tortilla, about 10-inches, is best for these burritos so you can get the most filling possible into them.  I like to use my gluten free tortilla recipe for these. ⅓ cup of the batter makes a perfect size for these burritos.  Only have small tortillas?  Make breakfast tacos instead!
Optional Add-ins - I also like to load up these burritos with avocado, spinach, and any leftover cooked veggies or grains I have around.  Quinoa, roasted veggies or sautéed bell peppers make a great addition to these burritos.
How to Make Vegan Breakfast Burritos
These whole food plant based breakfast burritos are a great make-ahead option for busy mornings, but they are also fairly quick to make initially.  To begin, add potatoes, onion and garlic to a large skillet and toss to combine.  Cover and bring to a boil, then reduce to a simmer.  Cook, stirring every couple minutes until potatoes are cooked through.  Remove the lid, turn the heat to high and cook off any remaining liquid.  Add the beans and salsa, stir and cook to warm through.
Start on the tofu scramble while the potatoes are cooking.  Drain the tofu, but don't press it.  You'll want that extra liquid to help cook the tofu. Crumble the tofu in a pan (non-stick or a regular pan will work).  Add the turmeric, garlic powder and salt and stir.  Cook the tofu scramble until a lot of the water has evaporated and it is the consistency of scrambled eggs.  Set aside.
Once the potatoes and tofu scramble are done, its time to assemble the burritos!  Make sure you have all your ingredients nearby, when you start.  Add filling to the center in a long strip, but make sure not to overfill or it will be hard to roll it up.  Roll it up and, if freezing, roll up in tin foil.  Enjoy!
How Do You Properly Roll a Burrito?
Rolling up a burrito without tearing it and keeping all the filling inside can be tricky sometimes. But, if you follow these simple steps you'll be rolling perfect burritos in no time!
First, make sure that your tortilla is soft and flexible.  If it isn't, you can it place in the microwave for 20-30 seconds.  Alternatively, put it in a pan with a couple drops of water, cover and cook over medium-high heat for a minute, until soft.
Next, add the filling to the tortilla in a line, making sure that there is plenty of tortilla on the outside of the filling for rolling up.  Don't be tempted to overfill the burrito or it will be impossible to roll.
Now its time to roll!  Start by folding the tortillas in at the long ends of your strip of filling.
Next, fold the bottom up over your first fold. Bring it over the filling and roll and tuck it around itself, taking care to keep the ends tucked in too.
Place seam side down on the serving dish and repeat with remaining vegan breakfast burritos.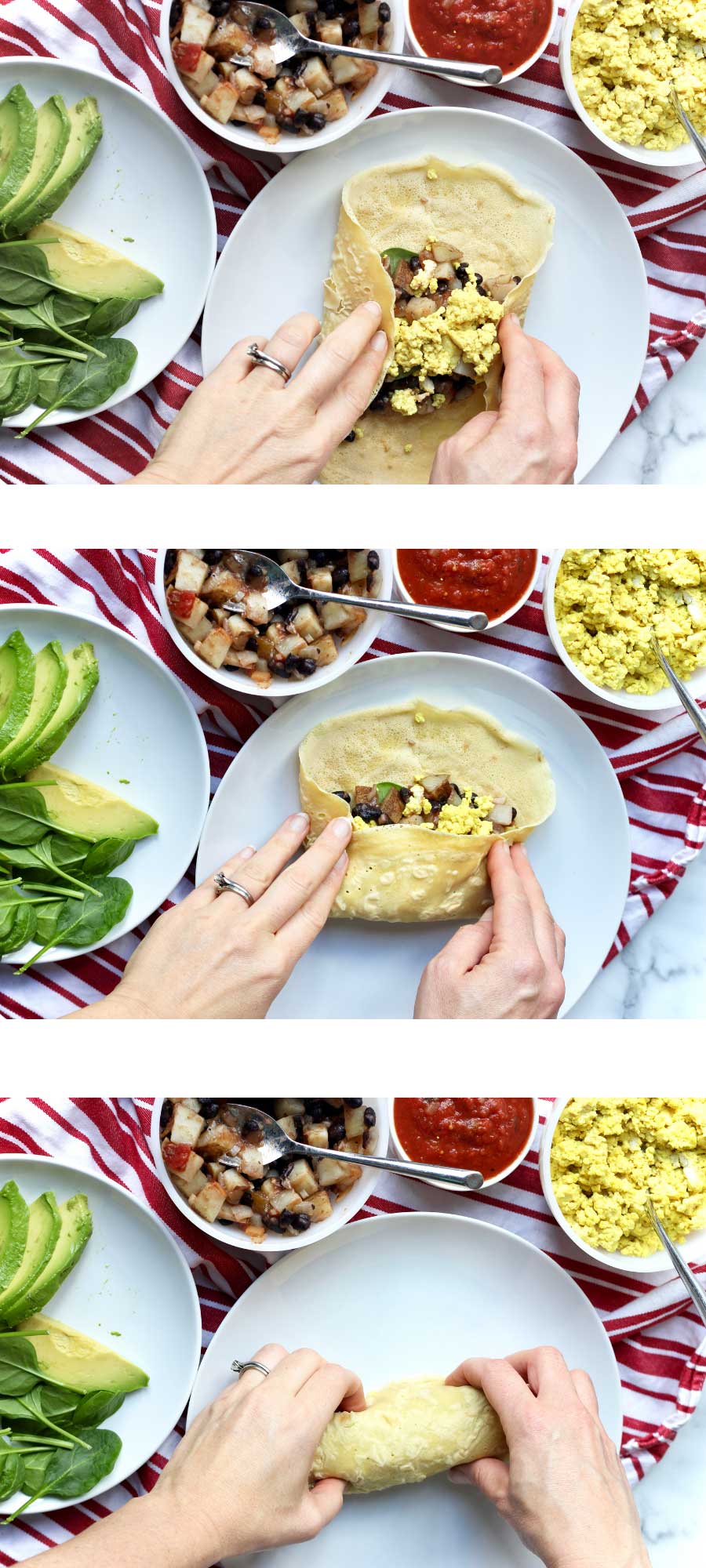 Make Ahead
Refrigerator: The potatoes and the tofu scramble can be made up to 4 days ahead of time and stored in an airtight container in the refrigerator.  When you're ready to eat warm the fillings and assemble.
Freezer:  Wrap burritos tightly in tinfoil and store in the freezer for up to 2 months.  I like to take the burrito out the night before I am going to eat it and put it in the fridge, so it heats through faster when I'm ready to eat it.  Warm in the microwave or in a covered skillet with a few drops of water until heated through.
Disclosure: This post contains Amazon affiliate links that earn me a small commission, at no additional cost to you. I only recommend products I personally use and love or think my readers will find useful.