Mexican quinoa bowl with cilantro-lime dressing is a healthy dinner that you can have on the table in under 30 minutes.  This Mexican inspired quinoa bowl is easy, nutritious and packed full of flavor.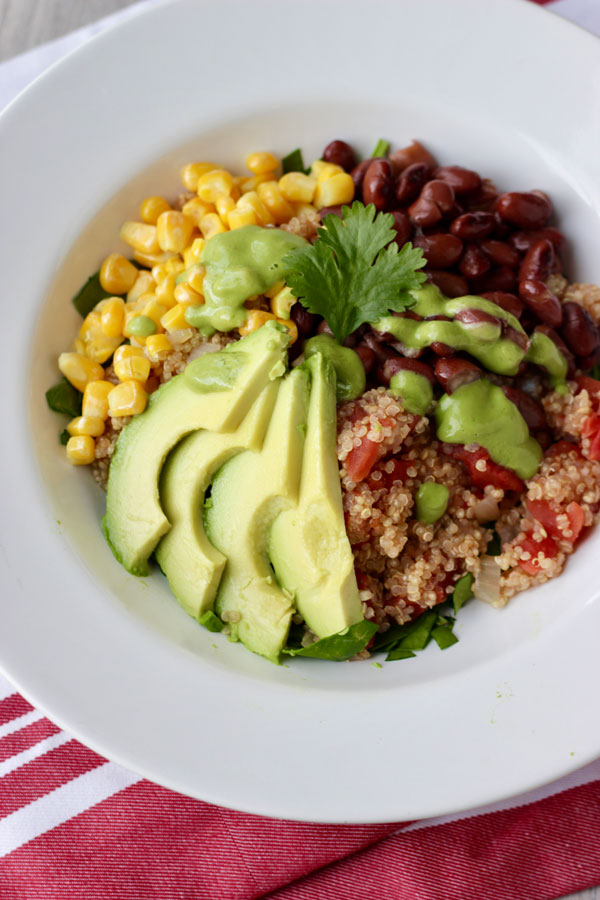 With Cinco de Mayo occurring today, it only seemed proper to share a Mexican inspired meal that I eat almost weekly.  Because of the versatility I could live off of grain bowls and nothing else.  And this version is one that I come back to over and over.  Its packed full of protein from the beans and quinoa.  The cilantro-lime dressing is oil free and contains heaps of one of my favorite things in the world – cilantro!  If you're not a cilantro fan, you can leave the cilantro out and substitute parsley , or try this vegan queso.
This meal is so easy that I have a hard time even calling it a recipe.  It's quinoa cooked with chopped onion and a can of diced tomatoes thrown in.  It is served on top of a bed of spinach and then topped with corn, pinto beans, avocado and drizzled with flavorful dressing.  It takes very little prep and you can make the dressing while the quinoa is cooking.  This quinoa bowl is delicious warm or cold and I have been known to eat it for any meal.  Yes, even breakfast.
What is quinoa?
Quinoa (pronounced KEEN-wah) is grown in Peru and is often used as a substitute for rice or other grains. Quinoa is commonly referred to as a grain but it is actually a seed.  Naturally gluten free, quinoa has been named a "superfood" for its high protein, fiber and iron content.  Quinoa is a complete protein, meaning it contains all 9 of the essential amino acids that can't be made by the body.  This makes it a great protein option for vegans and vegetarians.
Rinse quinoa before using to remove the outer coating called saponin, which has a bitter and soapy taste.  Some quinoa comes pre-rinsed, so check your package before cooking.  Quinoa has a 1:2 ratio when cooking, 1 cup quinoa to 2 cups water or broth.  I like to cook mine in broth to boost the flavor, but water is perfectly acceptable too.
How to Make Mexican Quinoa Bowl with Cilantro-Lime Dressing
Quinoa has a quick cooking time of 15 minutes, which gets dinner on the table in no time.  Start this meal by sauteing onion and garlic in a little bit of water until softened.  Add chili powder, oregano and a whole can of diced tomatoes with their juices.  Next, add the quinoa and 1 1/2 cups water, then cover and bring to a boil.  Reduce and simmer for 15 minutes.
While the quinoa is cooking make the dressing.  Add all of the ingredients to a blender or food processor and blend until smooth and creamy.  Since avocados come in different sizes, you'll need to adjust the seasonings to taste, adding more garlic, salt or lime juice as desired.
If you plan on eating the quinoa bowl warm, heat the beans and corn together in a small sauce pan over medium-low heat.  Add a little water to the bottom of the pan to prevent sticking.  Once the quinoa is done cooking place spinach in the bottom of shallow bowls, then top with quinoa, beans, corn and thinly sliced avocado.  Drizzle with cilantro-lime dressing and enjoy!
Substitutions for Quinoa Bowl
Use rice or any other grain in place of the quinoa.
Use black or any other bean in place of the pinto beans.
Bulk it up and add any other veggies that you have on hand like bell peppers, green chiles, green onions or olives.
Use parsley, spinach or oregano in place of the cilantro in the dressing.
Disclosure: This post contains Amazon affiliate links that earn me a small commission, at no additional cost to you. I only recommend products I personally use and love or think my readers will find useful.