This post may contain affiliate links. Please read my disclosure.
Kale salad with oil free balsamic vinaigrette is a hearty and delicious side dish. The oil free balsamic vinaigrette is massaged into kale to make it tender and is the perfect addition to any meal.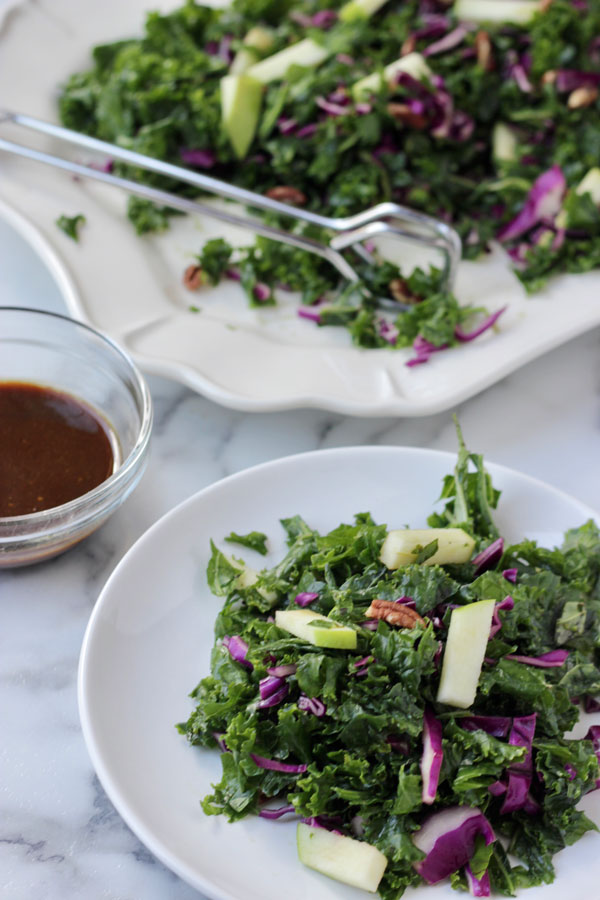 Every time I bring kale up in conversation (which is probably too often, but hey, I'm a vegan chef), I usually get an eye roll or someone saying they've tried it and hate it. I try to convince them they just haven't had it prepared properly, but they persist in their hatred of kale. Until....I finally have the opportunity to share with them this gorgeous salad.
I agree that kale on its own is pretty terrible and if you don't know how to prepare it properly it is simply awful. But there are tricks to making this superfood not only edible, but delicious. Read on!
What is Kale?
Kale is a green leafy cruciferous vegetable. Kale comes in a variety of colors from deep green to purple and even white. The most common varieties of kale are curly, purple and dinosaur or lacinato kale. The curly kale has big curly leaves as shown in the picture above, while dinosaur kale has flat leaves.
Kale falls into the "superfood" category because of its nutritional density. Kale contains, phytonutrients, antioxidants, fiber, calcium, and is loaded with vitamins A, C and K. The health benefits of kale are among the highest of any food around. Kale has also been found to have cancer fighting properties and is heart healthy by supporting the cardiovascular system.
How to Prepare Kale
Right before you are ready to use the kale, start by rinsing it under cold water. Occasionally, you'll find dirt and other field debris along the stem or in the curly kale leaves that needs to be rinsed off. You can also submerge it in a bowl of water and swish it around to get the grit off.
Next, you'll want to remove the thick stem that runs up the middle. There's two ways to do this. The first way is to grab the stem from the bottom with one hand and rip the leaves away from you off the stem with the other hand. The second way to remove kale stems is to fold the kale leaf in half and cut along the side of the stem where it meets the leaves. Remove the stem, but don't throw it away! There are lots of things you can do with the stems. Save them and use them to make vegetable broth, roughly chop and saute them in a stir fry, or add them to soups or smoothies.
How to Make Kale Taste Good? Massage It!
So, as mentioned above, kale is obviously really good for you. But, how do you get it to actually taste good? There are numerous ways! In this post we'll look at making kale taste good by massaging it. Massaging it? Really? Yep.
This simple technique breaks down the fibrous walls of the kale and makes it easier to chew and more palatable. Adding a little fat, which you get from the dressing, helps get the bitterness out of kale. To massage kale follow these simple steps:
Clean and trim the stems of your kale as instructed above.
Roughly chop the kale into bite sized pieces.
Pour a little dressing or a squeeze of lemon juice over the kale and then add a pinch of salt. Use a couple tablespoons of dressing or half a squeezed lemon per bunch of kale.
Wash your hands really really really good, or put on food safe gloves. If you are going to be serving this to people other than yourself or your immediate family, I recommend using food safe gloves instead of your bare hands, especially right now during the pandemic.
Knead the kale with your clean or gloved hands for 4-5 minutes, until the kale is reduced in volume and is slightly shiny from the dressing.
You can taste the kale occasionally while massaging it to see if the texture is where you want it. The longer you massage it the more tender it will become.
The kale is now ready to eat! Add more dressing as desired and top with nuts, beans, fruit or other veggies. Grilled portobello mushrooms are especially delicious on top of kale salad.
Here are some other ways you can make kale taste good without massaging it:
Add a handful of kale to smoothies (don't use too much though, or it will give the smoothie a gritty texture)
Roughly chop and add to soups or stews
Make kale chips
Kale Salad Variations
While I love this particular combination of flavors in this kale salad recipe, there are a million ways you could prepare it by swapping out ingredients. Feel free to get creative and use whatever you have on hand. I believe that salads are a blank canvas for getting creative.
Make it a meal and bulk it up by adding chickpeas, grilled portobello mushrooms, or roasted veggies.
Swap the apples for pears, plums, peaches, grapes or any other fruit.
Swap the pecans for walnuts, pistachios or any other nut.
Make it nut free and use sunflower or pumpkin seeds in place of the pecans.
Use any fresh herbs you have on hand such as oregano, thyme, cilantro or parsley.
Switch up the dressing and use avocado ranch or a simple squeeze of lemon.
No matter how you eat this salad, it is sure to become a quick favorite. I love eating this salad alongside butternut mac and cheese for a hearty and delicious meal. Enjoy!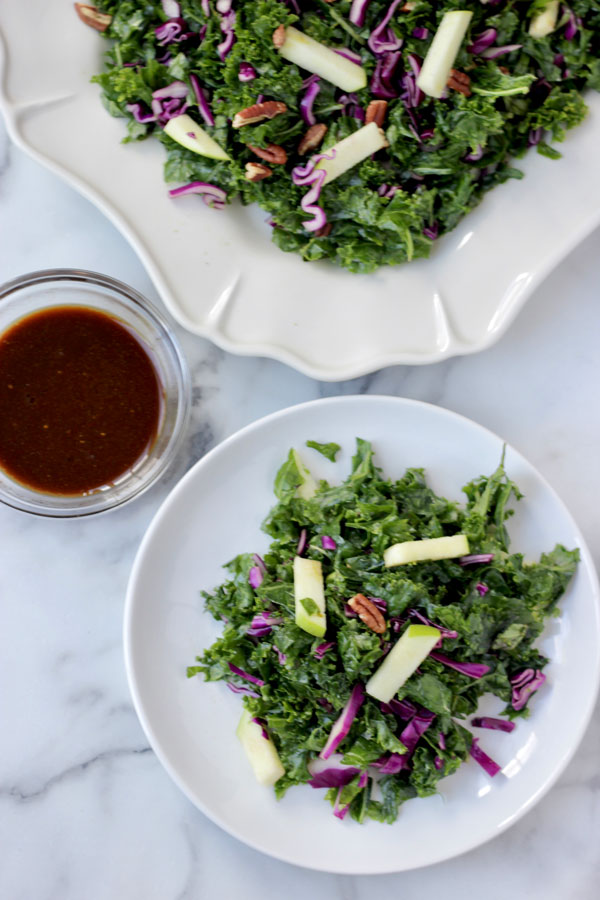 📖 Recipe
Kale Salad with Oil Free Balsamic Vinaigrette
Kale salad with oil free balsamic vinaigrette is a hearty and delicious side dish.  The oil free balsamic vinaigrette is massaged into kale to make it tender and the perfect addition to any meal.
Print
Pin
Rate
Ingredients
1

recipe

oil free balsamic vinaigrette*

1

bunch

kale

stems removed and roughly chopped

¼

head

purple cabbage

cored and thinly sliced

2

tablespoons

fresh chives

minced

2

tablespoons

fresh basil

minced

2

granny smith apples

cut into matchsticks

½

cup

pecans

toasted**
Instructions
In a large bowl, toss 2 tablespoons of the dressing and a pinch of salt with the kale and, with clean or gloved hands, gently massage the kale for 4-5 minutes until wilted and reduced in size. ***

Add the cabbage and herbs and toss to combine.  Top with apples and pecans.  Serve the remainder of the dressing on the side.  Enjoy!
Notes
*Nutrition facts calculated without balsamic vinaigrette since some people love a lot of dressing on their salad and others don't.  Please refer to the balsamic vinaigrette recipe for specific nutrition information.
**Nut-Free Option: use sunflower or pumpkin seeds instead.
***See instructions in body of blog post for more detailed preparation instructions.
Serving suggestions:
-Make this salad a main course and bulk it up by adding chickpeas, grilled portobello mushrooms, or roasted veggies.
-Eat this salad alongside butternut mac and cheese for a hearty and delicious meal.
Nutrition
Calories:
288
kcal
|
Carbohydrates:
39
g
|
Protein:
8
g
|
Fat:
14
g
|
Saturated Fat:
1
g
|
Sodium:
72
mg
|
Potassium:
754
mg
|
Fiber:
6
g
|
Sugar:
20
g
|
Vitamin A:
10493
IU
|
Vitamin C:
154
mg
|
Calcium:
198
mg
|
Iron:
4
mg
Disclosure: This post contains Amazon affiliate links that earn me a small commission, at no additional cost to you. I only recommend products I personally use and love or think my readers will find useful.