Sweet potato black bean enchiladas are oil free, vegan, gluten free and make a delightful dinner.  Packed full of flavorful spices with an easy homemade enchilada sauce and roasted sweet potatoes, these enchiladas will quickly become a dinnertime favorite.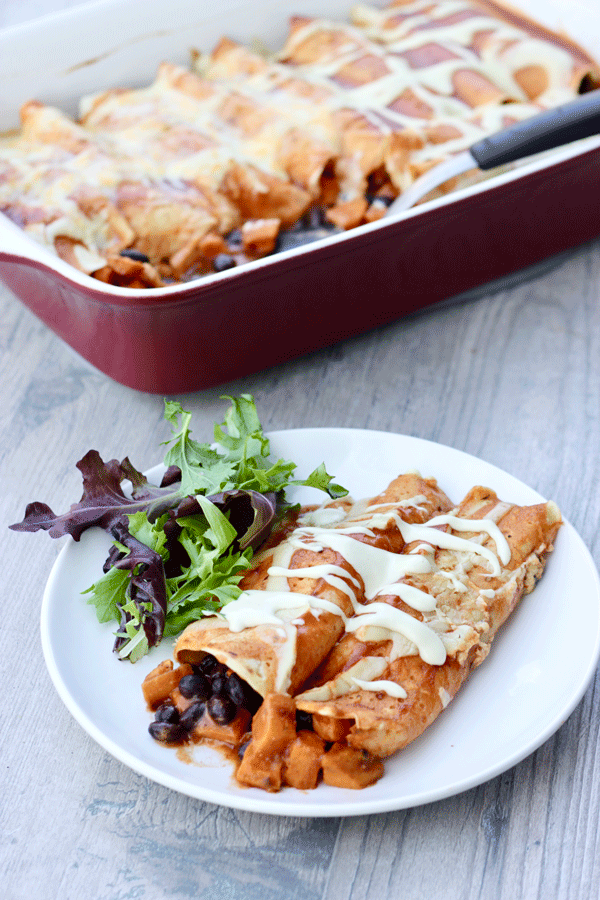 Before I became vegan, enchiladas were my go-to at Mexican restaurants.  I'd get cheese and onion enchiladas bathed in red sauce, eating every glorious bite and scooping up the remnants with tortilla chips.  Then I'd leave with a stomachache.  These meals are fond memories with friends and family, but the things they did to my body are not fond.
As I started taking animal products out of my diet I discovered this beautiful combination and never looked back! Sweet potatoes and black beans are a match made in heaven.  I have often eaten an entire plate consisting of these two things for a meal and been completely satisfied.  So then, rolling them up in a tortilla and baking them with a cashew cream sauce feels otherworldly to me.
How to make black bean sweet potato enchiladas
These oil free vegan enchiladas do require some time to make, but a lot of it is hands-off.  I can get this meal on the table beginning to end in about an hour.
Start by roasting the sweet potatoes.  Next, while the sweet potatoes are roasting make the enchilada and cashew cream sauces.  This sounds like a lot of work, but I promise you it is not.  Both sauces come together in no time.  When the enchilada sauce is done spread 1/2 cup sauce on the bottom of a 9 x 13″ pan to prevent sticking.
Once the sweet potatoes are fork tender remove them from the oven and add them to a medium sized bowl with the black beans and a few tablespoons of the enchilada sauce.  Scoop about 1/3 cup of the sweet potato mixture into a tortilla shell.  Roll up each tortilla and then lay seam side down in the prepared baking dish.  Repeat with remaining tortillas.  Pour a cup of the remaining enchilada sauce evenly over the top and then drizzle with the cashew cream sauce.
Bake in the oven for 20-25 minutes, or until the enchilada sauce is bubbling and the enchiladas are warmed through.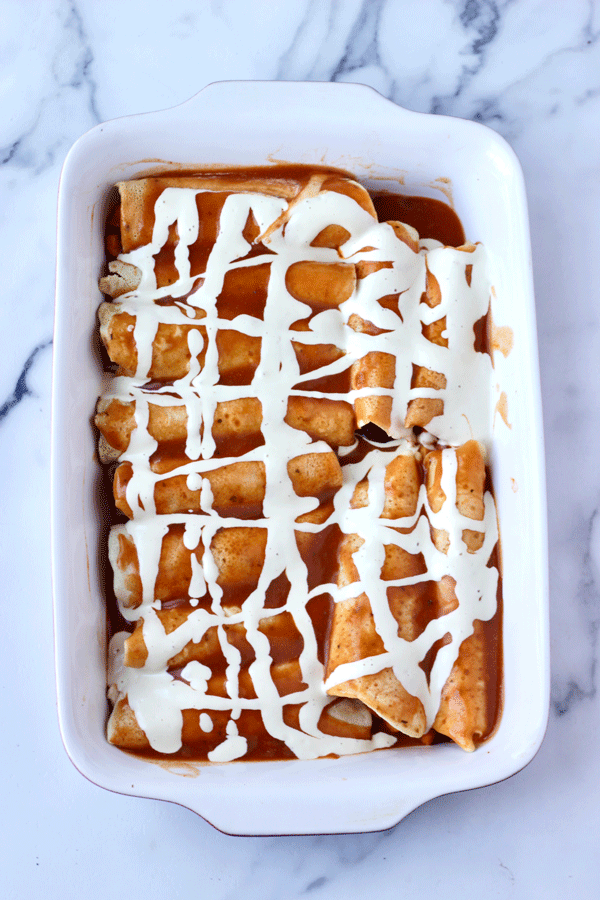 Substitutions for black bean sweet potato enchiladas
I use my homemade gluten free tortillas when making these enchiladas, but you could also use corn or flour tortillas.  If you're using corn tortillas warm them slightly in the microwave or a pan to make them more flexible and easy to roll.
A store bought enchilada sauce would work just fine here if you don't want to make your own.  Enchilada sauce comes in 10 or 28-ounce cans.  A 10-ounce can is right on the verge of being enough, but you can stretch it by reducing the amount you put on the bottom of the pan to 1/3 cup.  Or you can use two 10-ounce cans and slather the enchiladas in the sauce (my preference).  If you're making the enchilada sauce from scratch, try using this easy Instant Pot vegetable broth instead of store bought.
Instead of the cashew cream sauce you could use this cashew mozzarella recipe, a shredded store bought vegan cheese, or skip it altogether.
If sweet potatoes are hard to find you could also use butternut squash or any other slightly sweet squash.
Pinto beans can be substituted for the black beans.
What should I serve with vegan enchiladas?
I like to serve these enchiladas with a side of rice or quinoa and a big green salad with my avocado ranch dressing.  Or try these loaded vegan potato nachos as a side or appetizer.  The enchiladas are pretty filling, so eating them alone with a bigger portion is plenty for a meal too!  However you choose to eat them, you're going to fall in love!  Enjoy!
Disclosure: This post contains Amazon affiliate links that earn me a small commission, at no additional cost to you. I only recommend products I personally use and love or think my readers will find useful.