Vegan potato nachos are loaded with creamy queso, beans, tomatoes and green onion.  These tasty nachos are a perfect appetizer, or a whole meal served alongside Mexican quinoa or a hearty kale salad.
Do you know what my favorite food in the whole wide world is?  Broccoli.  Want to know my second?  Potatoes.  If I just ate potatoes and broccoli for the rest of my life I would be a happy girl.  The fantasies I have as an adult are not nearly as glamorous as my those of my childhood.  Clearly. My childhood self would be wildly disappointed in me.
But, all that to say, these potato nachos…mmmm.  I eat these at least once (twice?) a week for lunch and they never get old.  Never.  I could eat potatoes until my stomach burst, so I always make just enough for a reasonable meal sized portion.  There is never any leftover potatoes at our house.
Ingredients
This potato nacho recipe is corn free, gluten free, oil free and vegan.  If you want to make these potato nachos nightshade free, sweet potatoes are a wonderful substitute.
Potatoes – I prefer Yukon Gold potatoes, but you could also use red, russet or sweet potatoes.
Toppings – The toppings I give in the recipe are mere suggestions.  I love switching the toppings up with whatever I have on hand or am craving.  Beans, salsa, quinoa, rice, and leftover roasted veggies are some of my favorites, but get as creative as you'd like!  I like using these Instant Pot black beans as one of the toppings.
Cheese sauce – This can be made with cashews or use sunflower or pumpkin seeds for a nut free version.
How to Make Vegan Potato Nachos
These nachos are easy to make and most of the cooking time involves roasting the potatoes.  Preheat the oven to 425F (220C) and line a large sheet pan with parchment paper.  Slice the potatoes crosswise into 1/4-inch thick slices.  Put the potatoes in a bowl and toss with garlic powder, chili powder, aquafaba or water and salt, if using.  Lay the potatoes in a single layer on the prepared baking sheet and cook for 25-30 minutes, flipping once halfway through, until easily pierced with a fork and golden brown.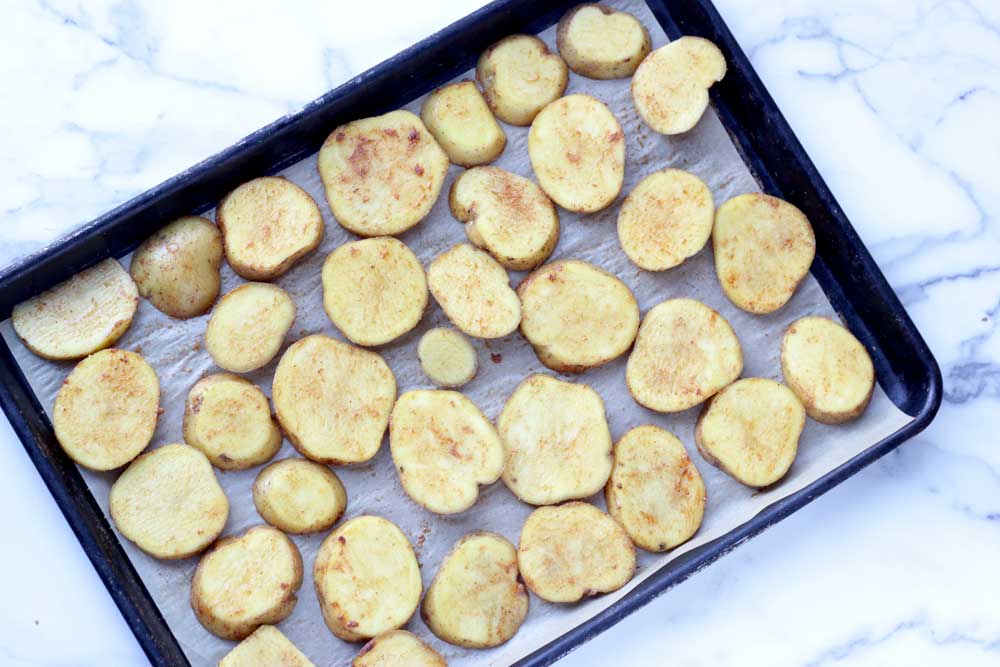 While the potatoes are roasting, make the cheese sauce.  The cashew queso is adapted from another recipe on my blog and it works perfectly.  If you don't have a high powered blender, like a Vitamix, you'll need to soak the cashews in hot water for 15 minutes before blending.  This will make it easier to blend the cashews into a sauce.  Next, add all of the queso ingredients to the blender and blend until a smooth, pourable sauce has formed.  Add more hot water as necessary, a tablespoon at a time, to aid in blending.
Once the potato slices are done roasting, pile the potatoes on a serving platter and load with desired toppings.  Drizzle with vegan queso and serve more on the side as desired.  Enjoy!
If you like this recipe you may also like these sweet potato enchiladas.