Vegan eggplant rollatini is an Italian inspired dish that is low carb and easy to make. Eggplant is roasted and then stuffed with tofu ricotta and baked in red sauce for a hearty and decadent meal.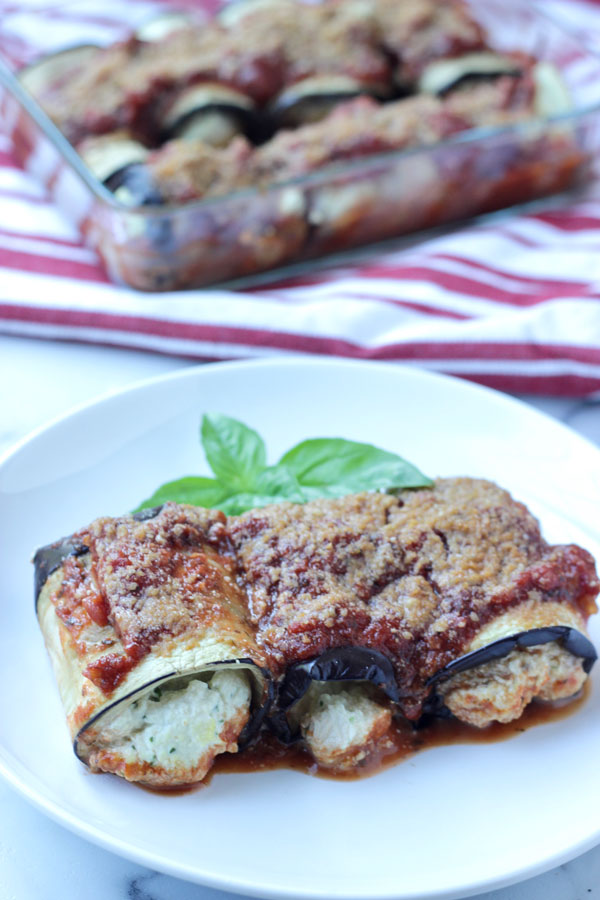 Eggplant is in season and I have been cooking it like crazy! I've been having fun experimenting, and this has been one of my favorite meals so far. My husband and I may have even eaten a whole pan of these in one day. But, it was in the name of recipe testing, so it's all good, right? And so obviously, this eggplant roll up recipe passed the test!
Vegan eggplant rollatini (or eggplant roll ups) are a low carb, low fat, nutrient dense meal. Eggplant rollatini are reminiscent of lasagna roll ups, but replace the carb heavy noodle with roasted eggplant slices.
Is Eggplant Healthy for You?
A one cup serving of eggplant provides at least 5% of a person's daily requirement of fiber, potassium, manganese, B-6, and thiamine. It also contains lower amounts of other vitamins and minerals including vitamin C, magnesium and iron.
Eggplant is a great source of antioxidants. Antioxidants are molecules that aid the body in eliminating free radicals — these free radicals can damage cells if they accumulate in the body in large amounts. Foods that contain antioxidants may help prevent a range of diseases. Make sure you are eating the skin of the eggplant, as antioxidants are found in abundance in the colored parts of fruits and vegetables.
Eggplant, along with other fruits and vegetables, can aid in weight management because it is rich in dietary fiber. People following a high-fiber diet are less likely to overeat, as fiber can help a person feel fuller for longer. Eggplant is low in calories, so staying full on low calorie foods may help with weight loss and management.
Do You Need to Salt Eggplant?
No. That is the short answer. But, this is a hot debate in the culinary world.
Why would you salt eggplant? People believe that salting eggplant, then rinsing off the salt after sitting for 30 minutes draws the bitterness out of eggplant. It certainly does draw water out of the eggplant, but in my experience it doesn't do much else. Eggplant has a slightly bitter taste, but nothing even close to truly bitter veggies like arugula, radicchio or mustard greens. We don't try to mask the flavor of these bitter veggies, so why bother with salting eggplant to remove mild bitterness? Well, I don't.
How to Make Eggplant Rollatini
Eggplant rollatini takes a little time, but it is largely hands off. The eggplant slices are roasted before they are filled with tofu ricotta, and then baked in a rich red sauce.
Slice and Roast the Eggplant
Preheat the oven to 425F. Line two sheet pans with parchment paper and set aside.
Slice: Cut off the end of the eggplant and then cut a small slice off one side. Place the eggplant cut side down so you have a steady cutting surface for the rest of your slices. Thinly slice the eggplant lengthwise, about ¼-inch thick, and place on the prepared sheet pan. Bake for 13-15 minutes, or until eggplant is starting to brown and the slices are pliable. To test if they're done, take one end and roll it up. If there is resistance, bake a little longer. Set aside to cool slightly. Lower the oven temperature to 375F.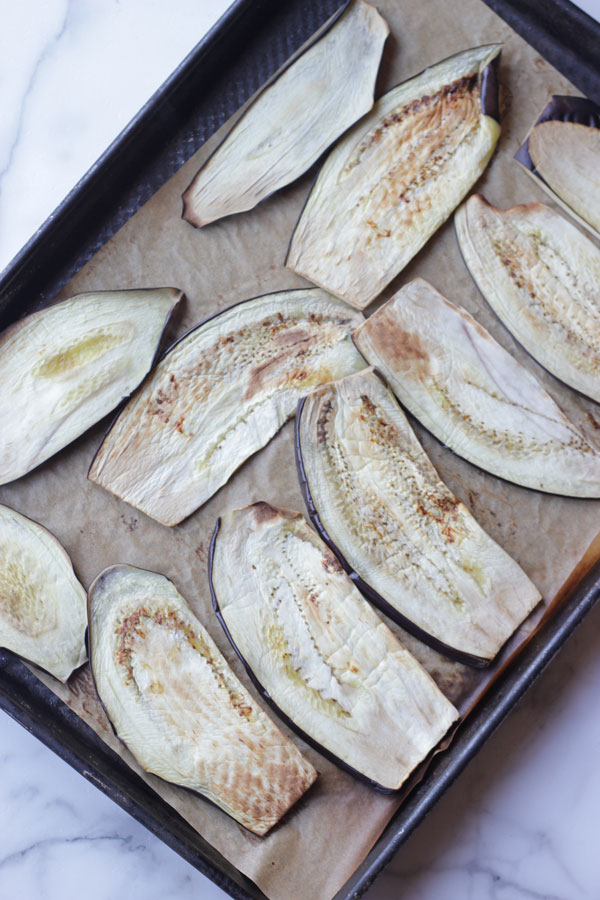 Make the Tofu Ricotta
While the eggplant is roasting, make the tofu ricotta. Add all ingredients to a food processor and pulse until combined and the mixture looks like ricotta cheese. Set aside.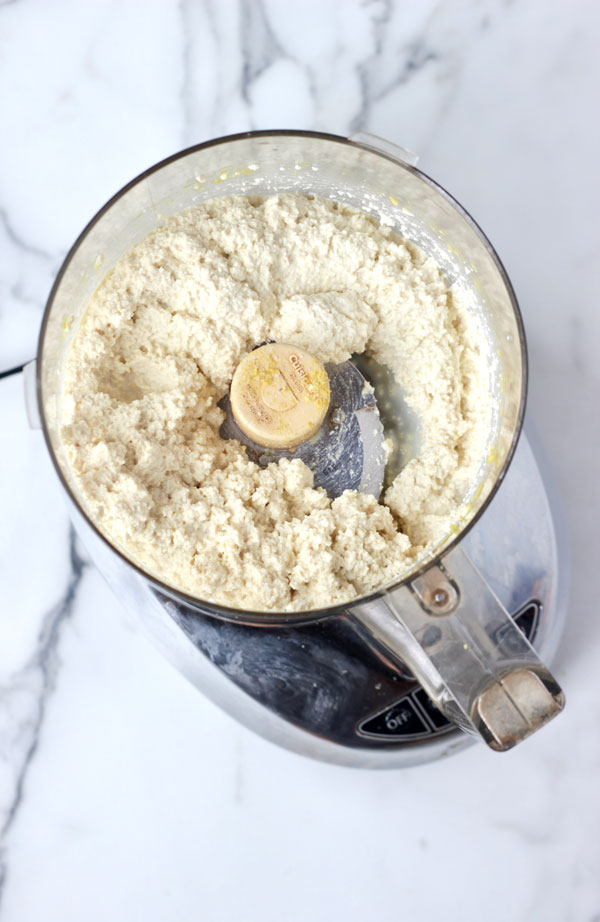 Assemble the Eggplant Rollatini
Place enough red sauce in the bottom of a 9 x 9" baking dish to cover the bottom. When the eggplant is cool enough to handle, place one eggplant slice on a clean surface. Scoop about 3 tablespoon of ricotta filling onto the end of the eggplant slice and roll up. Place seam side down in the baking dish. Continue until all filling and eggplant strips are used up. Top with remaining red sauce. Sprinkle with vegan Parmesan yeast if desired.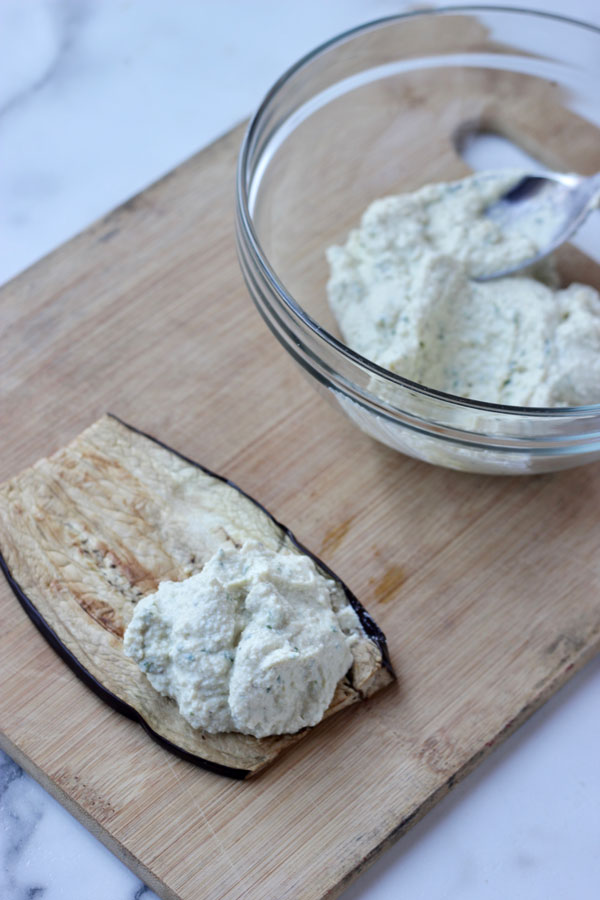 Bake
Bake the eggplant roll ups for 18-20 minutes, or until sauce is bubbly and warm and the top of the rolls are lightly browned. Serve immediately!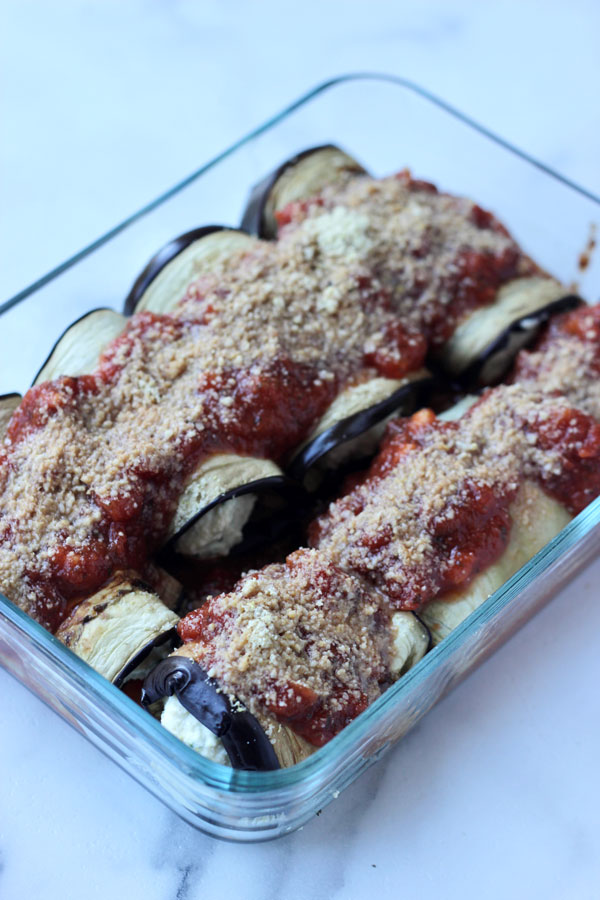 What Should I Serve with Vegan Eggplant Rollatini?
Eggplant rollatini is a perfect main course dish and a great way to showcase plant based cuisine and how delicious it can be! Serve this alongside a salad or roasted veggies. Try out some of these recipes to round out your meal:
No matter what you serve this with, I know you will enjoy this delightful Italian inspired dish! Bon appetit!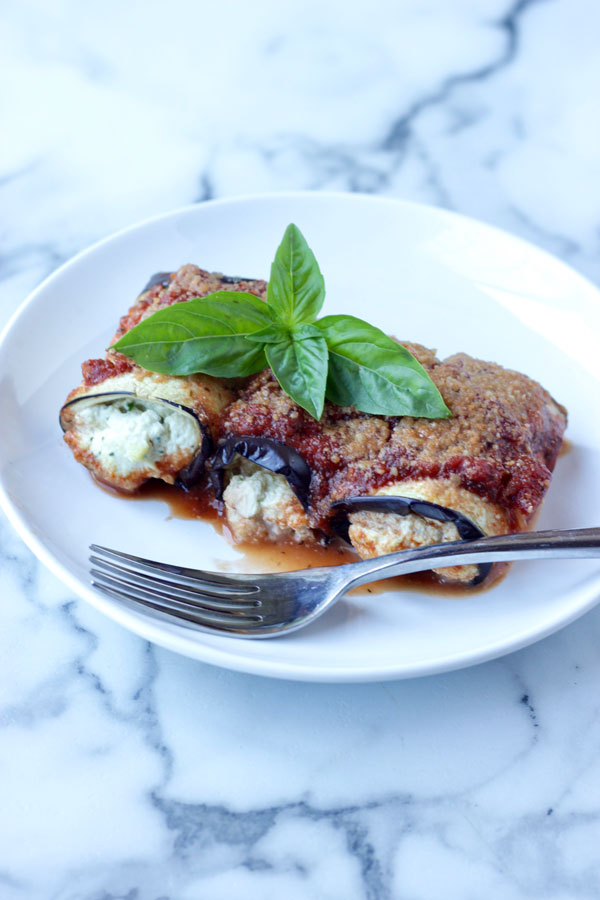 Disclosure: This post contains Amazon affiliate links that earn me a small commission, at no additional cost to you. I only recommend products I personally use and love or think my readers will find useful.