Pesto pasta with roasted tomatoes is a delicious summertime meal that comes together quickly.  Featuring fresh basil and cherry tomatoes, this pasta showcases some of summer's best produce.  Add this pesto pasta to your menu for an easy weeknight meal.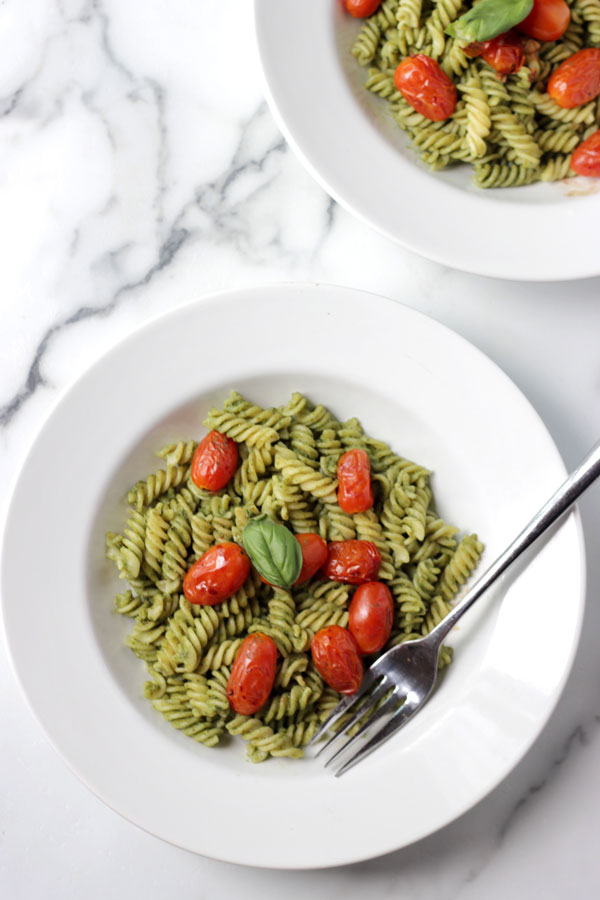 So, I guess I am going a little pesto crazy right now.  Last week I posted shaved asparagus salad with pesto, and this week pesto pasta.  But what screams summer more than fresh basil?  Trick question.  Tomatoes scream summer just as much as basil.  So I put them together in this divine medley of basil, tomato, lemon and pasta.  Just for you.
How to Make Pesto Pasta with Roasted Tomatoes
This pesto pasta recipe is nut free, oil free, gluten free and vegan, so this meal can truly satisfy any person in your life.  This meal comes to together in less than 30 minutes, so you can have dinner on the table in no time.
First, roast your tomatoes in a 400F oven.
Cook pasta according to package directions.  Reserve 1/4 cup pasta water, drain and put pasta back in pan.
While the tomatoes are roasting and pasta is boiling, make your pesto.  Add ingredients to a blender and blend until smooth.  Set aside.
Toss the pasta with the pesto and reheat if necessary.  Top with roasted tomatoes and sprinkle with vegan parmesan cheese if desired.  Enjoy!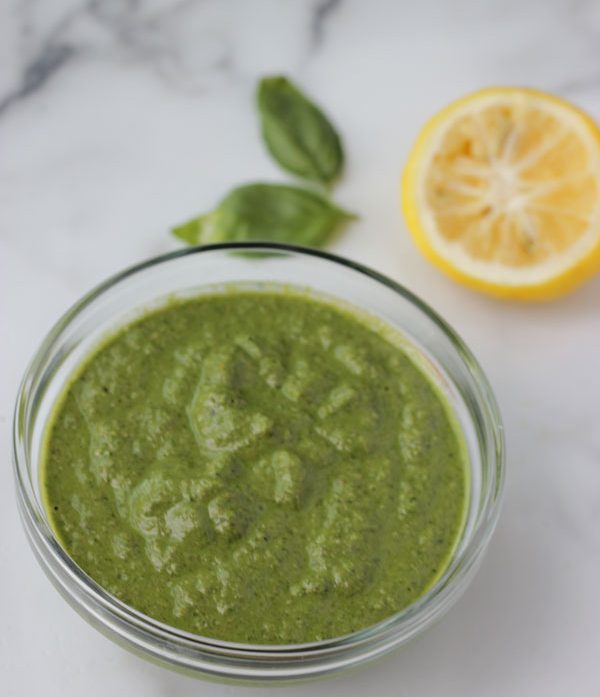 How to Roast Tomatoes Without Oil
Roasting anything without oil felt perplexing to me when I first started cooking this way.  But after learning a few simple tricks, I've discovered its not hard at all.  The key is to keep whatever you're cooking moist so it doesn't dry out.  I do this by tossing whatever I'm making with water, broth, or in this case balsamic vinegar.
Preheat the oven to 400F.  Line a baking dish or sheet pan with parchment paper.  Add cherry tomatoes and minced garlic to pan and then drizzle with balsamic vinegar and water.  Toss to combine.  Roast in the oven for 20-25 minutes, tossing once halfway through.  Roast until the tomatoes start to blister and shrivel.  And, you're done.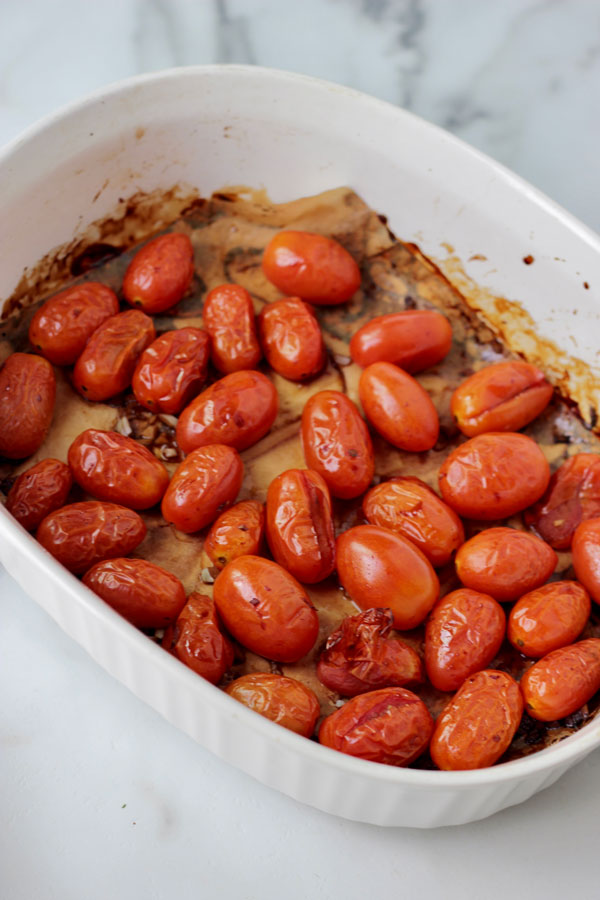 Substitutions in Pesto Pasta
Use store bought pesto.  Just be aware that many store-bough pestos contain parmesan cheese.  So, read the ingredients first if this is a concern for you.
Use any nut or seed in place of the sunflower seeds in the pesto.
Try using different herbs or greens in place of some or all of the basil in the pesto.
Use any shape pasta in place of the fusilli pasta.
Use rice, quinoa or any other gluten free grain in place of the pasta.
Can This Be Eaten as a Cold Pasta Salad?
I am glad you asked!  This recipe also makes a great cold pasta salad.  After draining the pasta, run under cold water and then proceed with the rest of the recipe.  This will keep in the fridge for a couple days, although the pesto will start to discolor and brown after the first day.
Disclosure: This post contains Amazon affiliate links that earn me a small commission, at no additional cost to you. I only recommend products I personally use and love or think my readers will find useful.