This post may contain affiliate links. Please read my disclosure.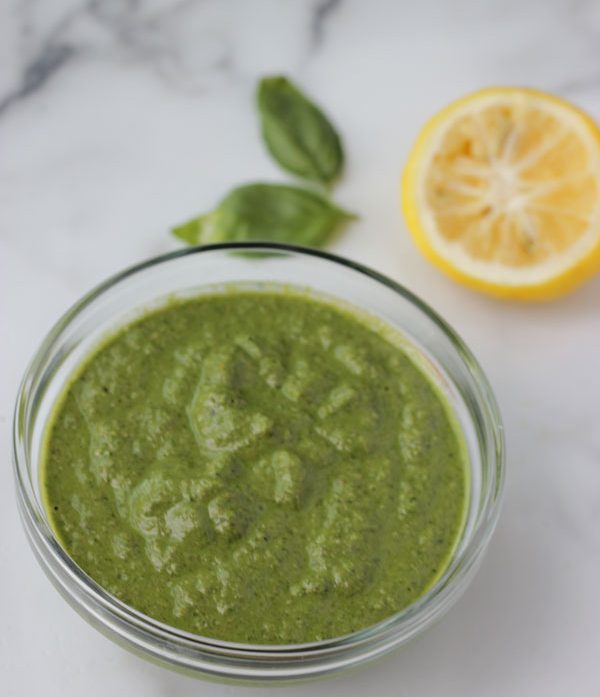 I've been making pesto without nuts for quite some time. True story. Let's be real here: pine nuts are expensive, basil is expensive (unless you have a garden full in the middle of summer), so pesto in it's traditional form is just darn expensive to make. But wait...not anymore! Try my substitutions for this nut-free vegan pesto and you'll be spooning pesto over everything all year long.
Why Use Sunflower Seeds in Pesto?
I started using sunflower seeds in place of pine nuts when I had a bowl full of basil and a guest who was allergic to tree nuts at the Rivertown Inn, where I work as a chef. I scratched my head for a few moments, zoned in on a bag of sunflower seeds and thought, "why not?". It was magic I tell you. Honestly, there is not a whole lot of difference in the taste, and the price difference makes this an obvious substitution. Use the same amount of sunflower seeds in place of pine nuts and you've got yourself a budget-friendly nut-free vegan pesto!
Can You Use Other Herbs in Pesto Besides Basil?
In the peak of summer when I have more basil than I know what to do with, I cram as much  basil as I can into my Vitamix and pesto away! But, when winter hits in Minnesota, the plethora of basil diminishes seemingly overnight. Boo hoo. And the price goes way up. Double boo hoo. So what's a girl to do?
My solution: use other less expensive herbs to supplement the basil. My traditional basil pesto recipe calls for 2 cups of basil, but during the winter months I use a cup of basil and a cup of parsley to cut down on the cost. The basil flavor still shines through and you've got yourself a bowl of pesto that smells like summer. My craving for summertime in January is so overwhelming that the smell of fresh basil in the winter literally makes me weak in the knees.
Switch it up and add other herbs you have lying around to make different flavored pesto. I've used a few tablespoons of fresh rosemary, thyme and even mint to give my pesto a distinctive twist.
Can I Make Pesto without Parmesan Cheese?
Traditional pesto has parmesan cheese in it, but not to fear...vegan pesto has nutritional yeast to mimic that flavor. What is nutritional yeast? Well, the scientific answer is: its a single-celled organism named Saccharomyces Cerevisiae which grows on molasses and is harvested, washed, and then dried with heat to kill or "deactivate" it. The foodie answer is: it is little yellow flakes that give vegan foods a cheesy flavor. Plus, it is the only plant-based food that naturally contains vitamin B-12, an essential vitamin that vegans need to supplement in their diet. You can find nutritional yeast in the health food section of most grocery stores, in the bulk section of health food stores or on Amazon. If you don't have any on hand, you can still make this pesto, just add a bit more salt and an extra clove of garlic.
How to Use Oil Free Vegan Pesto
So, what to do with all this delicious pesto?
Use it as a sauce on pastas or pizzas.
Use on Shaved Asparagus Salad.
Thin it out with a little broth or water and use it as a salad dressing.
Use it as a spread on a sandwich.
Saute some spinach or kale and stir it in at the end.
The possibilities are endless. Get creative, and most of all...ENJOY!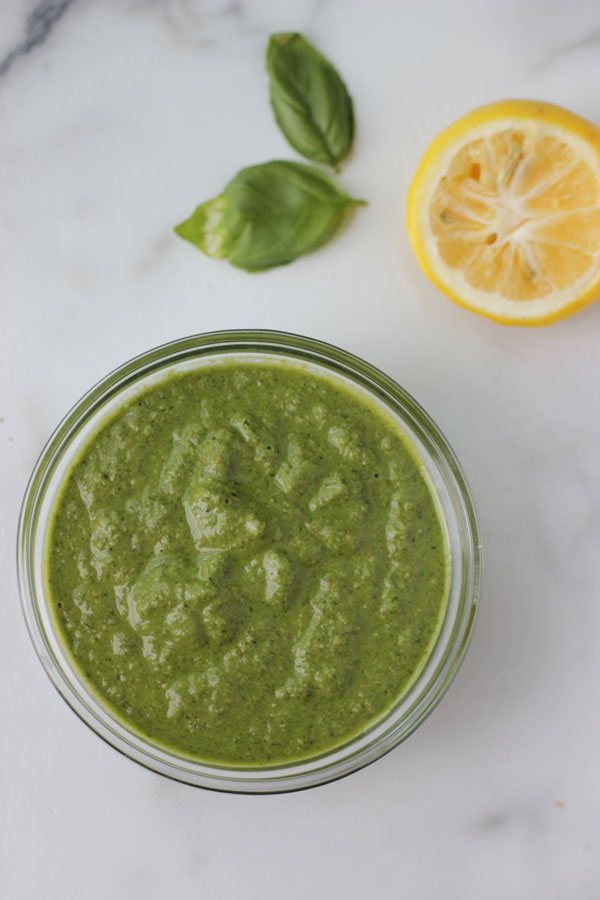 📖 Recipe
Nut Free Vegan Pesto
This nut free and oil free vegan pesto is quick to make, budget-friendly and can be used as a sauce for pasta, on pizzas, as a quick salad dressing or as a dip.
Print
Pin
Rate
Ingredients
2

cups

loosely packed basil

or other herbs such as parsley, cilantro or sage

¼

cup

raw sunflower seeds

1

tablespoon

lemon juice

1

clove

garlic,

2

tablespoons

nutritional yeast,

¼

cup

water

⅛

teaspoon

sea salt

more to taste
Instructions
Add all ingredients to a blender container and blend on high until pureed.  Add more water a tablespoon at a time until desired consistency is reached.  

Store in an airtight container in the fridge for up to 5 days.  The pesto will start to discolor after a day, but will still be delicious to eat!  Enjoy!
Nutrition
Calories:
271
kcal
|
Carbohydrates:
16
g
|
Protein:
16
g
|
Fat:
18
g
|
Saturated Fat:
2
g
|
Sodium:
299
mg
|
Potassium:
658
mg
|
Fiber:
7
g
|
Sugar:
1
g
|
Vitamin A:
2532
IU
|
Vitamin C:
15
mg
|
Calcium:
111
mg
|
Iron:
4
mg
Disclosure: This post contains Amazon affiliate links that earn me a small commission, at no additional cost to you. I only recommend products I personally use and love or think my readers will find useful.