These individual portobello shepherd's pies are filled with roasted carrots, mushrooms, and onions and topped with a savory parsnip puree.  Serve these elegant shepherd's pies at your next holiday gathering or special occasion.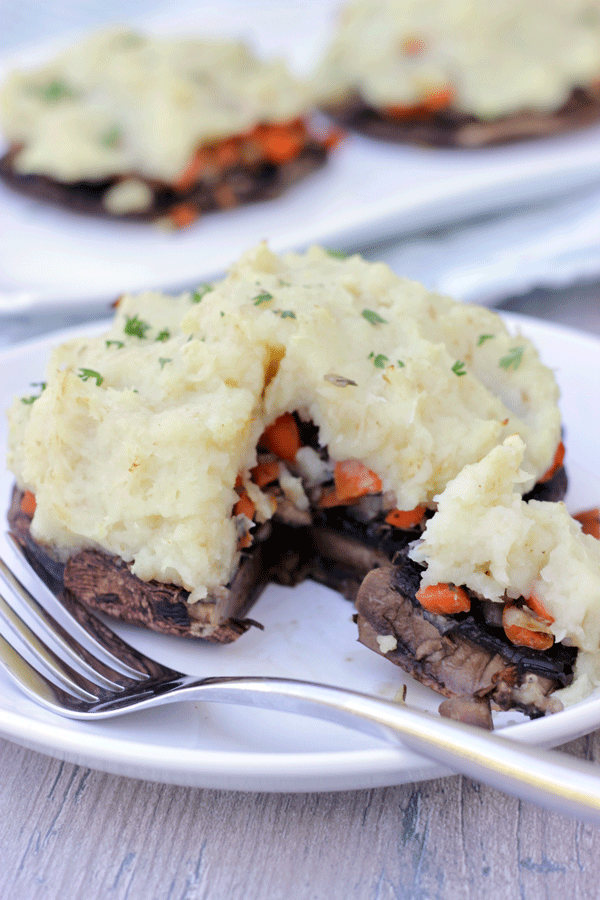 Who doesn't love a good shepherd's pie?  That's a rhetorical question, obviously.  Shepherd's pie is the comfort food of all comfort food.  It's warm, flavorful and packed with hearty ingredients to keep you full long after you eat.  These individual portobello shepherd's pies are a fun take on the traditional pie you know and love.
I replaced the traditional mashed potato crust with a parsnip puree.  Parsnips are a much underused vegetable and one that can add so much depth to a recipe.  Parsnips look like a white carrot, but taste much different.  They are best described as tasting earthy with a hint of spice that compares to nutmeg and cinnamon.  They are absolutely delightful!
This shepherd's pie is vegan, gluten free, nightshade free, grain free and oil free.  So, it should meet just about anyone's dietary restrictions.  It looks so elegant that it feels like a special occasion meal, but its quick enough to make for a weeknight dinner too.
Ingredients in Portobello Shepherd's Pie
Portobello mushrooms - These serve as the base for the shepherd's pie and will be filled with carrots and onions and topped with parsnip puree.  The stems of the mushrooms are diced and added to the filling for a meaty texture.
Carrots - Carrots are diced and roasted with garlic, mushroom stems, and onion to create the filling for the pie.
Dijon Mustard - You can also use yellow mustard or stone ground mustard.
Parsnip - This is a fun spin on a traditional shepherd's pie.  Parsnips are steamed and then pureed to make the topping for this pie.  If parsnips aren't your thing, see variations below.
How to Make Individual Shepherd's Pies
Even though there are a few different steps to make these portobello shepherd's pies, they still come together pretty quick.  Preheat the oven to 425F (220C) and line a baking sheet with parchment paper.  Start by roasting the portobello mushrooms, carrots, garlic, and diced mushroom stems in the oven.  You can roast these on the same sheet pan if they fit, or use two if they don't.  Make sure your carrots and onions are diced small so that they cook quickly and evenly.  The mushrooms are done when moisture starts pooling around the outside of the caps, about 10-12 minutes.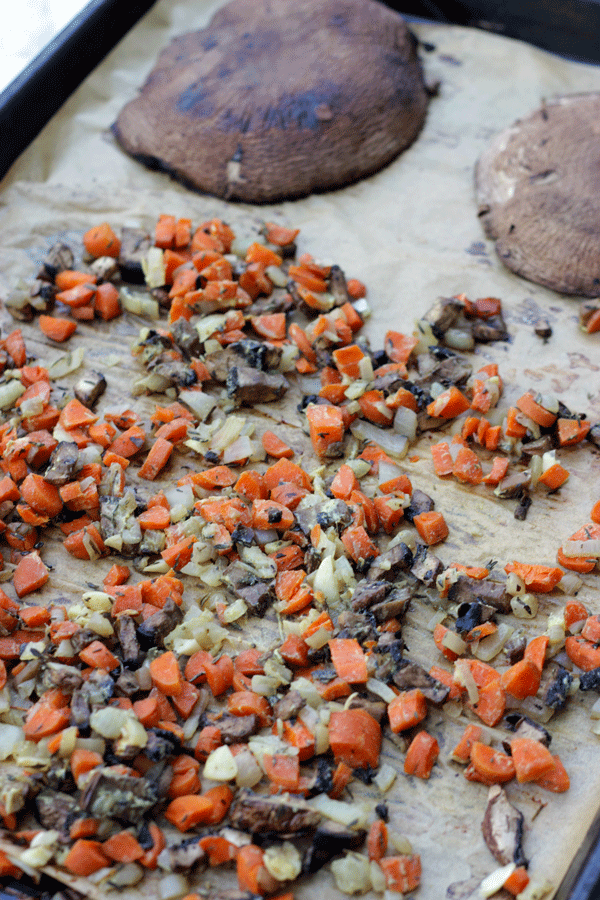 While the mushrooms and carrots are roasting, make the parsnip puree.  Bring a large pot of salted water to a boil. Add the parsnips and boil for 8-10 minutes, or until very tender and easily pierced with a fork. Drain and transfer to a food processor with the almond milk. Process until smooth and creamy. Season with salt and pepper to taste. Add more almond milk as needed to reach desired consistency. (Alternatively, use a potato masher to mash all the ingredients thoroughly together, getting it as smooth as possible).
Turn the roasted portobello caps upside down and place the roasted carrot mixture on top, dividing it evenly between the four caps. Seal the caps by covering the vegetables completely with the parsnip puree. Bake for 8-10 minutes in the oven, or until the parsnip begins to brown slightly. Enjoy immediately.
Do I Need to Scrape the Gills Out of Portobello caps?
Not for this recipe.  The gills of the portobello mushrooms will add more flavor to this recipe.  The gills should be scraped out of portobello caps in recipes where they will discolor what you are cooking.  For instance, if you are sautéing portobellos for a stir fry, the gills will fall off and turn your dish a dirty brown color.  The gills will stay intact while roasting the portobellos for the shepherd's pie, so there's no need to scrape them.
Variations to Shepherd's Pie
Add peas: Add ½ cup of thawed frozen peas to the carrot mixture after roasting to add a more traditional flavor.
Topping: Use any other root vegetable in place of the parsnip puree.  I especially like celery root, sweet potato, traditional mashed potatoes, or cauliflower mash.
Filling: Try another root vegetable in place of some or all of the carrots.  Potatoes, turnips, sweet potatoes, and rutabaga are all delicious alternatives.
Not a fan of mushrooms?  Try using another veggie as the base such as a bell pepper, zucchini or eggplant.
Maybe not a variation, but I love this with gravy poured all over the top!
Can I Make Shepherd's Pie Ahead of Time?
Yes, this shepherd's pie can be made up to two days ahead.  Make the recipe as directed above, but do not assemble.  Store the mushrooms, carrot mixture and parsnip puree separately.  Assemble the shepherd's pies when you're ready to eat them and heat in a 350F (180C) oven for 15 minutes, or until heated through.
What Should I Serve with Shepherd's Pie?
This shepherd's pie is low in calories, so you have plenty of room to serve some hearty sides next to it.  Try these recipes:
Enjoy!
Disclosure: This post contains Amazon affiliate links that earn me a small commission, at no additional cost to you. I only recommend products I personally use and love or think my readers will find useful.