Vegan sweet potato pie tastes just like the classic, but without all the refined sugar, dairy and eggs. This sweet potato pie is gluten free, lightly spiced, and makes the perfect healthy dessert for the holidays or any time!
My husband's favorite holiday has always been Thanksgiving, and mostly because of the food. He loves the mashed potatoes doused in gravy, the stuffing, brussels sprouts, cranberries and the turkey. The turkey may be a hard one this year since he's given up meat since last Thanksgiving, but I'll make sure to have plenty of food to fill him up!
And, the thing he's always loved most of all is sweet potato pie. I have used a Cook's Illustrated recipe for years that he adores and anxiously awaits each Thanksgiving. This recipe is excellent, but is laden with white sugar, eggs and dairy. This year I wanted to try and make something I could eat and enjoy alongside him. So, with the trusty Cook's Illustrated recipe along for the ride, this vegan and gluten free sweet potato pie was born!
Ingredients in Vegan Sweet Potato Pie
Sweet Potato - sweet potatoes are steamed and then processed in the food processor to make a puree. If you already have sweet potato puree you can use 3 cups for this pie.
Tapioca starch - this is what sets the filling without using eggs. If you don't have access to tapioca starch, cornstarch will work too.
Syrup - since sweet potatoes are already quite sweet, I use just ½ cup of maple syrup in this recipe for the perfect amount of sweetness.
Spices - fresh grated nutmeg and cinnamon are used to lightly spice this pie.
How to Make Vegan Sweet Potato Pie
I highly recommend using my easy gluten free pie crust recipe, but you can also use your favorite pie crust recipe or a store-bought version. This crust is easy to make and doesn't require chilling or rolling. Just press it in and it's ready to bake. Parbake for 10 minutes before adding the filling and set aside. (If you're using a traditional pie crust you won't have to parbake it.)
While the crust is baking, steam the sweet potatoes. Add sweet potatoes to a steamer basket and steam for 10-12 minutes or until sweet potatoes are easily pierced with a fork.
Transfer the steamed sweet potatoes and remaining ingredients to the bowl of a food processor. Process until completely smooth and no lumps of sweet potato remain, about 2-3 minutes.
Pour the sweet potato mixture into the prepared pie crust and bake for 40-45 minutes, or until the pie is set in the middle, has darkened in color, and looks dry on top. Check the pie after 20 minutes and cover the edges of the crust with tinfoil if it is starting to get too brown.
Remove from the oven and allow to cool to room temperature. Chill until ready to eat. This pie can be served chilled or at room temperature. I especially like it with coconut whipped cream.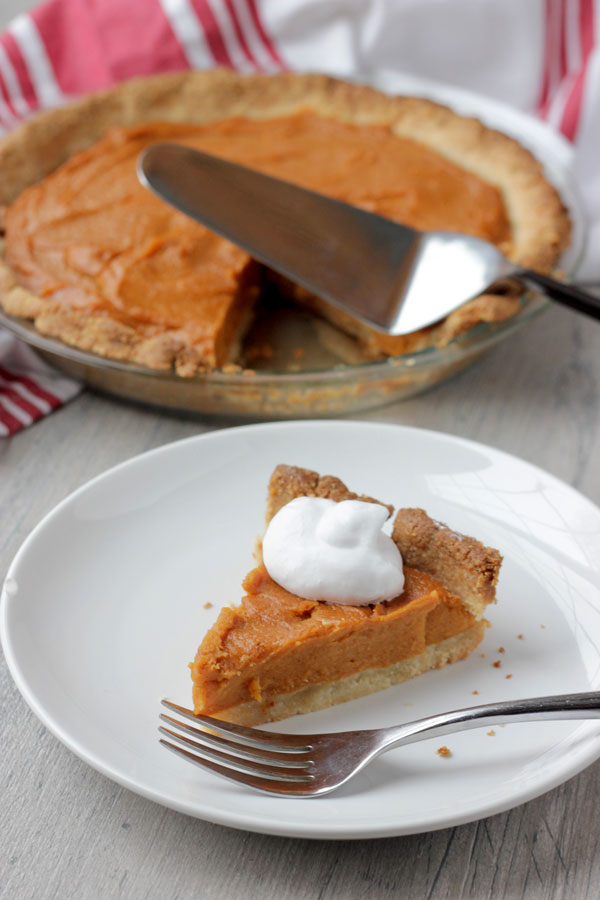 Is Sweet Potato Pie Unhealthy?
Sweet potato pie is ultimately made to be a dessert. But...this sweet potato pie is relatively healthy and may have been eaten a time or two at our house as a light breakfast. Sweet potatoes are considered a superfood and are high in vitamin A, fiber and most of the B vitamins. The crust is made from almonds and adds a dose of protein, Vitamin E and iron. So, as far as pie goes, this vegan sweet potato pie is pretty darn healthy while still feeling indulgent. Go ahead and enjoy!
Variations for Sweet Potato Pie
Sweet potatoes, squash and pumpkin are all abundant in the fall. Any of these can be used in this pie. Just peel and steam squash or pumpkin and use them in lieu of the sweet potato in this recipe. If you use pumpkin, you can make a traditional pumpkin pie by omitting the nutmeg and cinnamon and using 2 teaspoons of pumpkin pie spice. Taste the filling and add a touch more maple syrup as necessary to reach desired sweetness. Don't add more than a few tablespoons or the pie may not set properly.
What is your favorite kind of pie? As I mentioned above, this one is my husband's favorites, but my absolute favorite is pecan pie. If you're also a pecan pie fan, be sure to check out this recipe.