Vegan Cauliflower Alfredo Sauce is rich, creamy and packed full of nutrition.  Alfredo sauce is notorious for being unhealthy with a high saturated fat content and tons of dairy. With this vegan alfredo sauce, you can have your sauce and eat it too!  This sauce is delicious on pasta, pizza, or drizzled over roasted veggies and rice.  This cauliflower alfredo sauce is versatile and a healthy recipe you definitely want in your repertoire.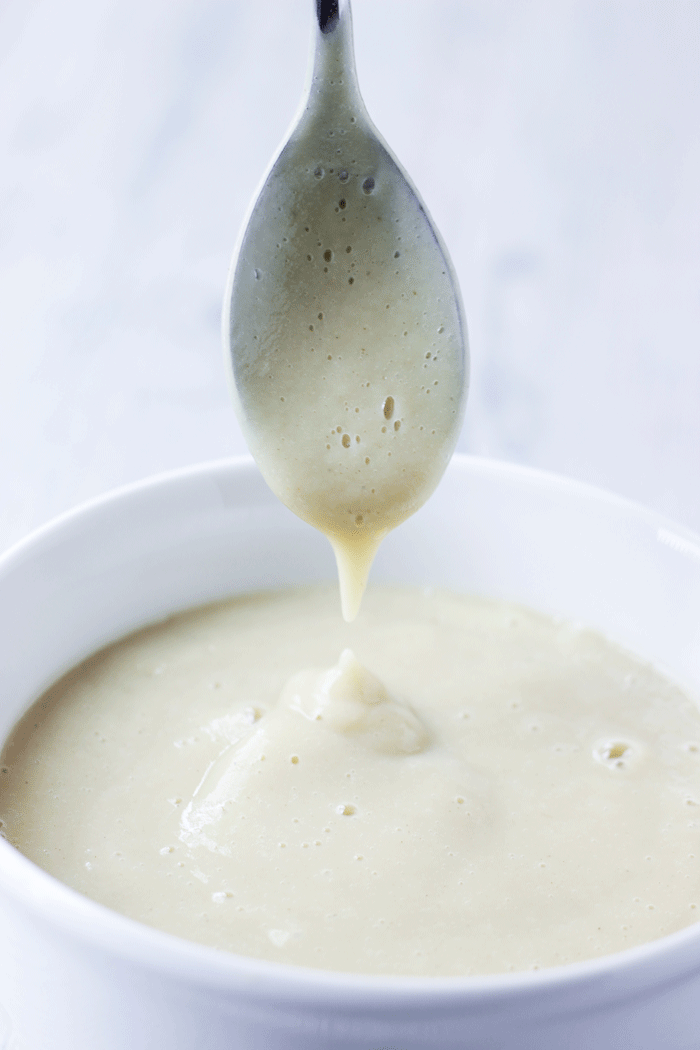 If you've never heard me swoon about cauliflower before, here's your chance!  Aren't you lucky?  Cauliflower, just like chickpeas, is sneaky and magical.  You can blend it into just about anything to squeeze some extra veggies into your diet.  My personal favorite is cauliflower "oatmeal", in which you substitute all the oats for riced cauliflower.  I've had a full-on cauliflower hater say she loved it, so...just saying; cauliflower is sneaky.
So, if cauliflower is sneaky, and traditional alfredo sauce is nutritionally bad...why not give this vegan alfredo sauce a try?
How to make vegan cauliflower alfredo sauce
This vegan alfredo sauce comes together fairly quickly for a healthy weeknight dinner.  In fact, once you have your veggies chopped, you could boil water for fettuccine noodles and make the sauce simultaneously.  Dinner on the table in 30 minutes or less. Dang that's fast!
Side note, I have just learned how to saute veggies without oil, and I am totally hooked.  Leaving the oil out leaves me feeling lighter at the end of each meal.  So, I'll be including instructions for both oil sauteing and no-oil sauteing.
First, saute your onion over medium heat in a few tablespoons of veggie broth, or a couple teaspoons of oil.  Saute until lightly browned and softened, adding a little more broth if necessary to keep the onion from sticking to the bottom of the pan.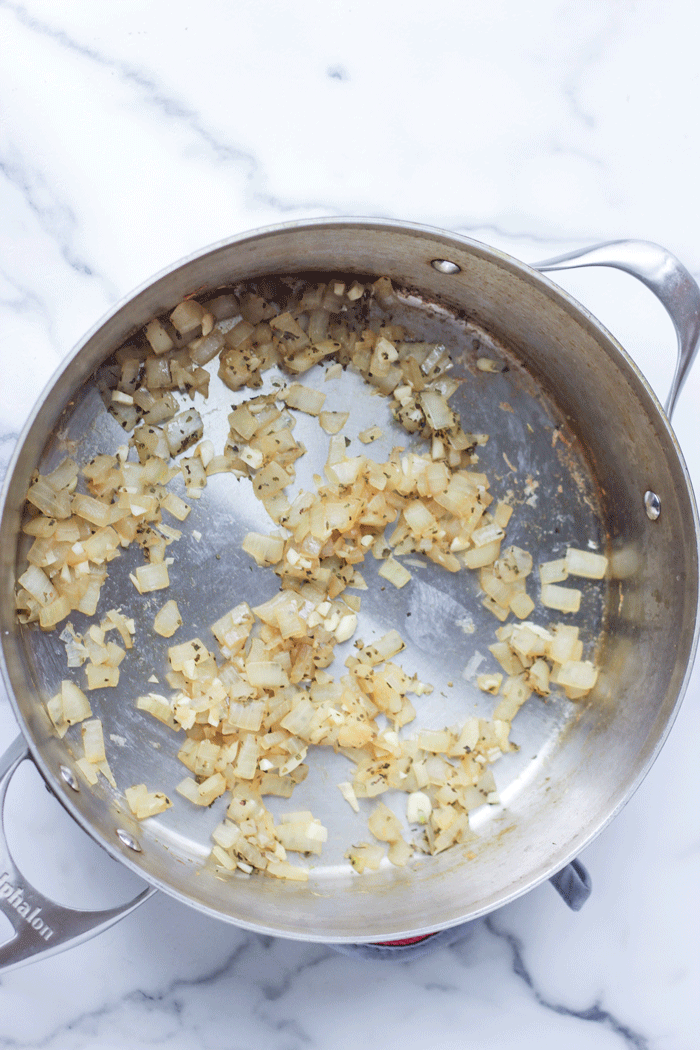 Next, add garlic and oregano and saute for about 30 seconds more.  Add cauliflower and broth, bring to a boil, cover and simmer for about 10 minutes.  Cauliflower is done when it breaks apart easily when pierced with a fork.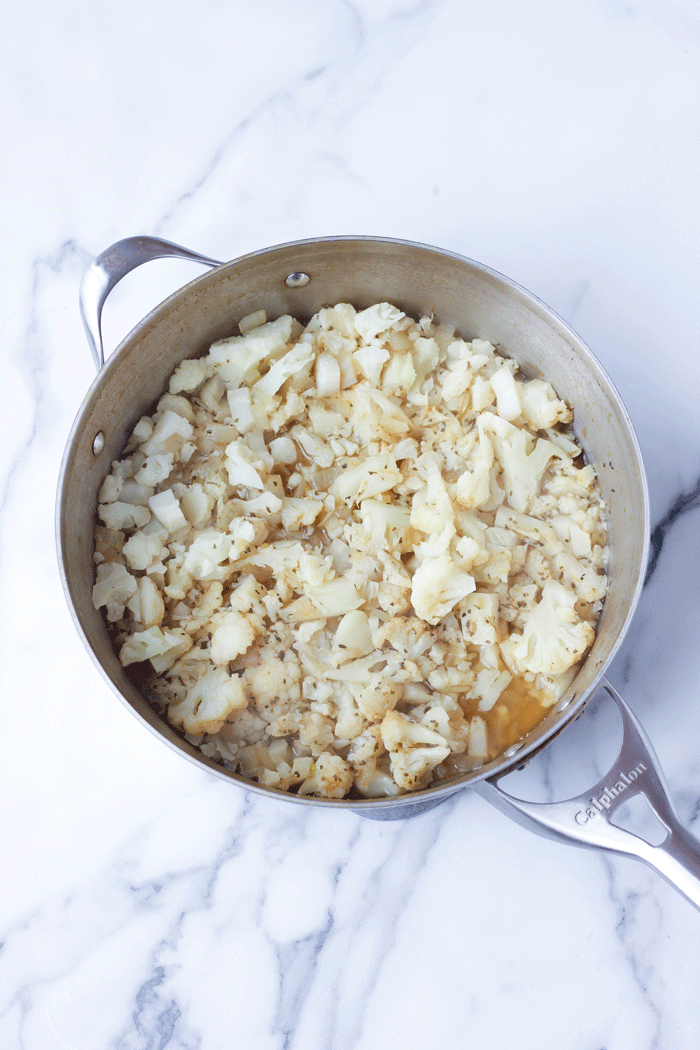 Once the cauliflower is tender, add the entire contents of the pan to a blender.  Add nutritional yeast, lemon juice, non-dairy milk and salt.  Blend until completely smooth and creamy.  Add a little more milk to reach desired consistency if necessary.  Done!  The sauce is now ready to use as you please.  My absolute favorite way to use this sauce is on pasta with some sauteed mushrooms and broccoli.  That might be my favorite meal in the universe right there.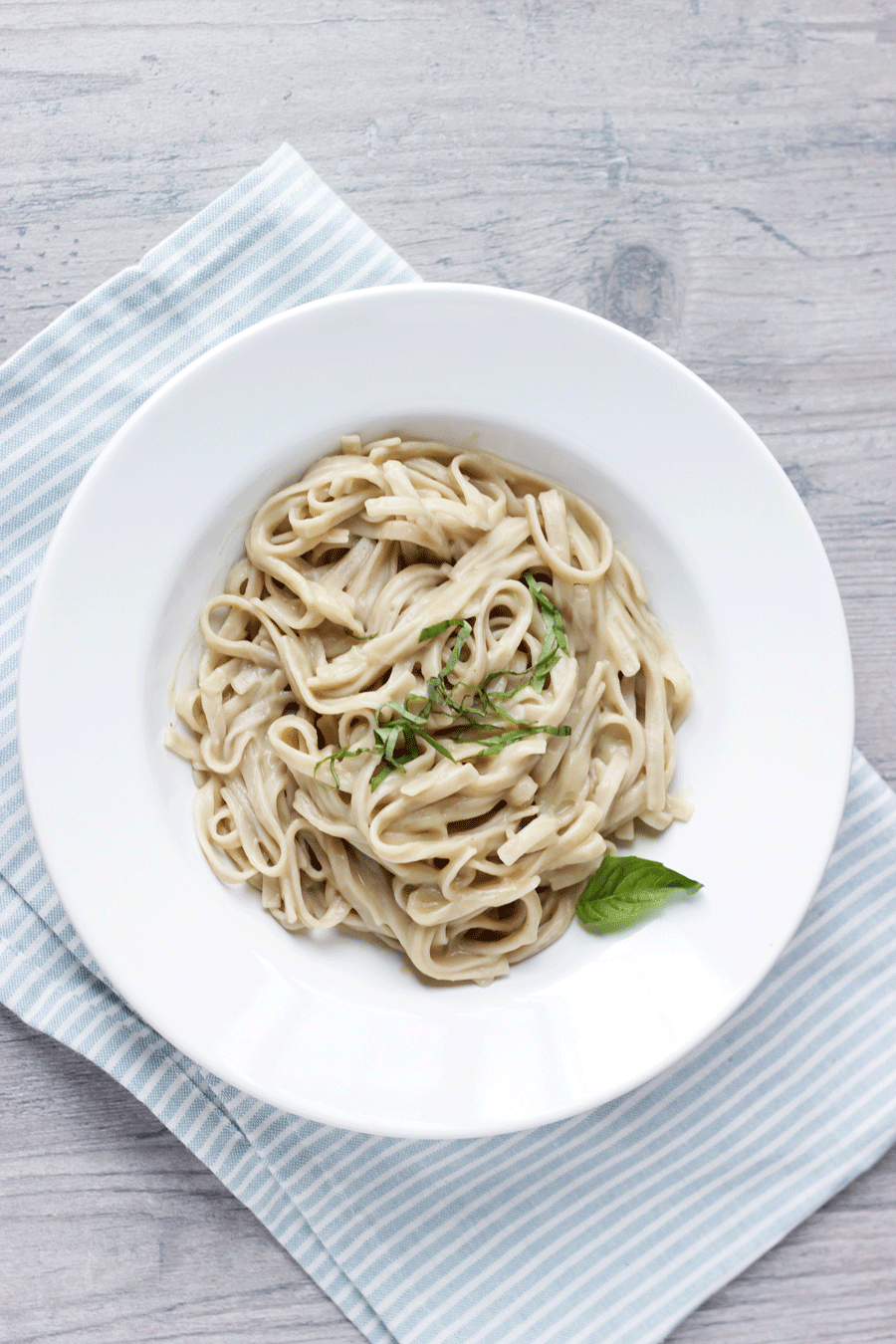 Health benefits of cauliflower
So, why should you add more cauliflower to your diet?  There's lots of great reasons.
Cauliflower is in the cruciferous family with broccoli, cabbage and many other veggies that have cancer fighting properties.
It is rich in antioxidants, is an anti-inflammatory and has evidence linking it to both heart and brain health.
Cauliflower contains high amounts of vitamin C & K, beta-carotene, fiber and folate.
If that's not enough to convince you, just give this sauce a try and I am sure it will turn you into a true believer!  Enjoy!
This sauce would be fabulous on roasted broccoli with quinoa in place of or combined with the roasted red pepper sauce.  This also makes a great sauce for my gluten free pizza crust. Get creative and slather it on just about anything.  What will you use this sauce for?
Disclosure: This post contains Amazon affiliate links that earn me a small commission, at no additional cost to you. I only recommend products I personally use and love or think my readers will find useful.