Oil Free Baked Sweet Potato Fries are packed full of flavor and nutrition. They make a delicious side, rice bowl topping, or afternoon treat. Serve them alongside Vegan Avocado Ranch dressing for a delightful, nutrition-packed snack.
I was recently introduced to oil free cooking by my friend and fellow vegan blogger Chef Katie Simmons at Plants Rule. (If you don't know Chef Katie yet, you should. Her vegan transformation story is inspiring!) My chef brain instantly rejected the concept of cooking or roasting without oil. I resisted the notion that this could be delicious, even as I started experimenting with it. Slowly I started. I sauteed onions in vegetable broth and then moved on to other vegetables. Guess what? Delicious! Even more flavorful than oil-sauteed veggies. I felt lighter and had zero heart burn, which I often have after eating oily foods.
Next, I tried roasting potatoes without oil. Roasted potatoes are one of my favorite foods in the world. No chance they could be good. Wrong again!
Next up? Yup, sweet potato fries! So, here we go...
How do I roast sweet potato fries without oil?
Roasting any vegetable without oil feels daunting at first, but with a little experimenting you're going to fall in love. Vegetables that are naturally moist, like potatoes, will require less fuss when roasting without oil. Vegetables like broccoli and cauliflower will require a bit of additional liquid, but we'll save that for another post.
Start by preheating the oven to 400F and lining a sheet pan with parchment paper. Parchment paper is a must to prevent sticking, so don't skip this. Next, peel and cut your sweet potato into fries and put in a mound on the sheet pan.
Now its time to season the fries. You can season the sweet potato with whatever you please, but my favorite is garlic powder, paprika and a sprinkle of sea salt. Sprinkle the seasonings over the fries along with a tablespoon of water to help the spices stick. Then, toss the fries with the spices until evenly coated and spread in an even layer on the sheet pan. Take care not to crowd the sweet potatoes too much or they will steam and be soft and a little soggy rather than crispy.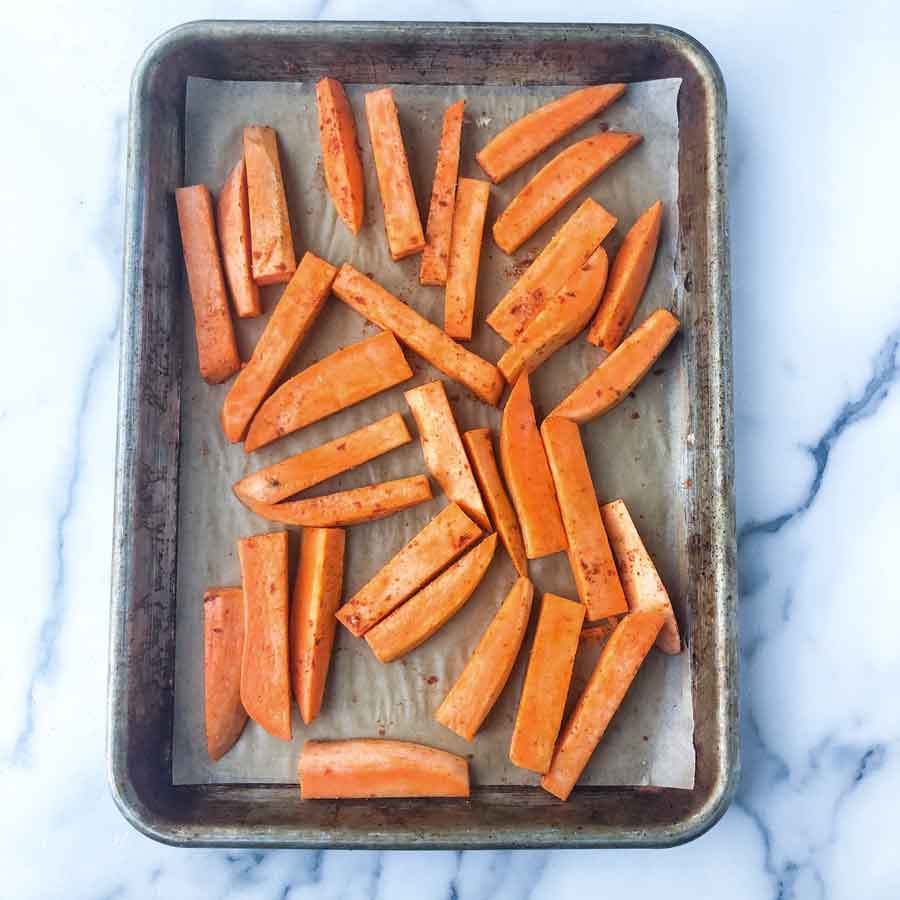 Bake the sweet potato fries for 15 minutes, toss, and then cook another 8-12 minutes, depending on desired crispness. Finish with a sprinkle of sea salt. Enjoy your baked sweet potato fries as a side to any meal or as a snack with this Vegan Avocado Ranch Dressing.
Disclosure: This post contains Amazon affiliate links that earn me a small commission, at no additional cost to you. I only recommend products I personally use and love or think my readers will find useful.