Fresh Mango Salsa has become a quick favorite around our house.  This colorful dish is bursting with flavor and easy to prepare.  I love this with chips and on top of  Jerk Baked Tofu with Coconut White Rice or on top of Jackfruit Tacos, for a quick weeknight meal.
Over the past couple years fresh tomatoes have stopped agreeing with Mace and his mouth.  Because of their acidity, they make his mouth break out, and that's just no fun.  So, we figured out that fruit salsa is where it's at.  Fruit salsas can be diverse and flavorful and I love coming up with different combinations.  This fresh mango salsa is by far our favorite.  Sweet, sour, salty and mildly spicy this hits all the different taste buds for an explosion in the mouth.
The cucumber adds crunch and texture.  If you're sensitive to nightshades, you can leave the red bell pepper out and add more cucumber.  And if you're one of those cilantro haters, use basil or parsley instead.  This is truly a salsa for all!
Mango is an extremely healthy fruit that is packed full of antioxidants. Mango is high in fiber and vitamins A & C.  It also has moderate levels of folate, iron and vitamin B6 and is rich in minerals.  Mango touts many health benefits which may include: improved eye sight, lower blood pressure and cholesterol, boost in immunity, improved digestion and many more.  Whoa!  Mango is a powerhouse of nutrition and a great addition to a healthy diet.
How to make Mango Salsa
Mango salsa comes together in a snap.  I adore making this salsa simply for it's aesthetic quality.  All the colors make it very pleasing to the eye.  Have you ever heard the phrase "eat the rainbow"?  Combining lots of different colored fruits and veggies into your diet will help you to achieve eating all the vitamins and minerals you need in a day.  This salsa, with it's rainbow of colors ,will get you down that road in a jiffy!
Once you've done your chopping, throw everything in a bowl and give it a stir.  Then let it marinate in the refrigerator for an hour or more to allow the lime juice to seep into all the crevices.  If you just can't wait, that's ok!  Eat it up, I won't judge.  If you're making this ahead of time, it will last 2-3 days in the fridge.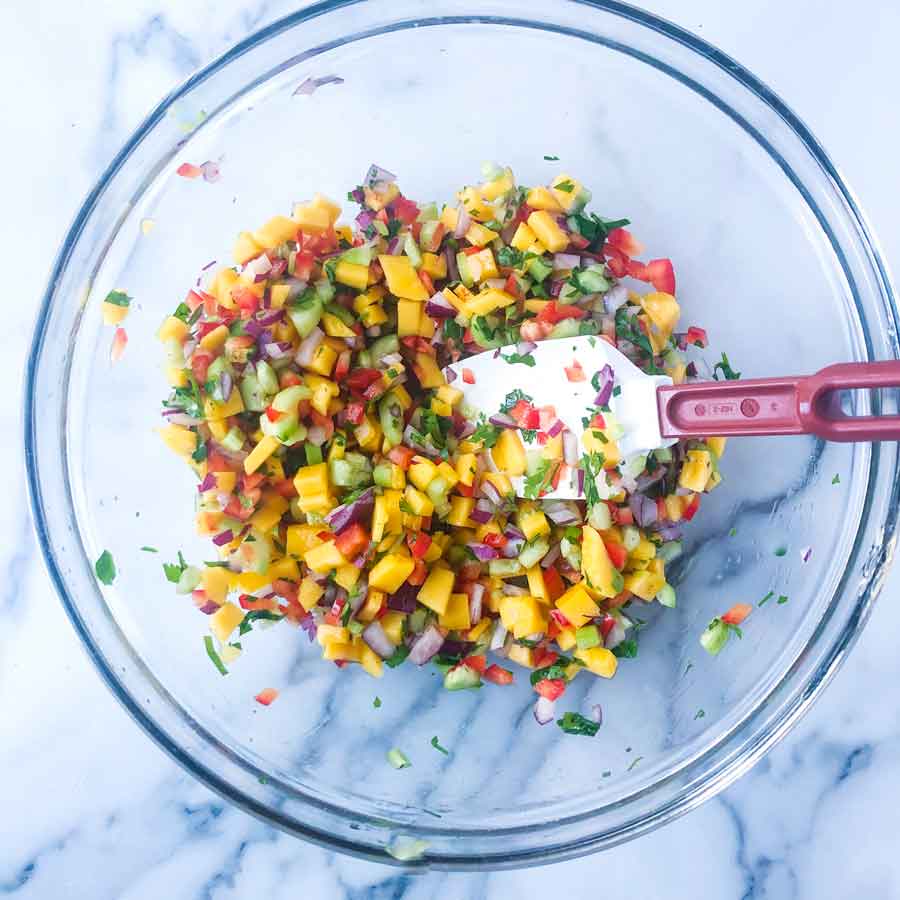 How to cut a Mango
The trickiest part about making mango salsa is cutting the mangoes themselves.  There are lots of different methods out there, and today I'll share mine.
Start by cutting the mango lengthwise just off from center on both sides.  There is a seed in the middle of mangoes that you need to avoid, so cutting this way will help you avoid the seed.  You know you've hit the seed if you meet resistance with your knife.  Just move the knife slightly outward and try again.  Don't forget to cut the sides too.
Next, use a spoon and start from one edge to scoop the mango out of the skin.  Now your mango is ready to dice, slice, or gobble up!  Enjoy!
If you liked this mango salsa, you may also enjoy these Cranberry Salsa and Cauliflower Ceviche recipes.
If you've made this mango salsa and liked it please leave a comment below and share with those you love.  Have a beautiful day!