Balsamic grilled portobello mushrooms are bursting with flavor and perfect for summertime grilling. Portobello mushrooms are brushed with a tasty marinade to create a perfect meat substitute on salads, sandwiches, and more!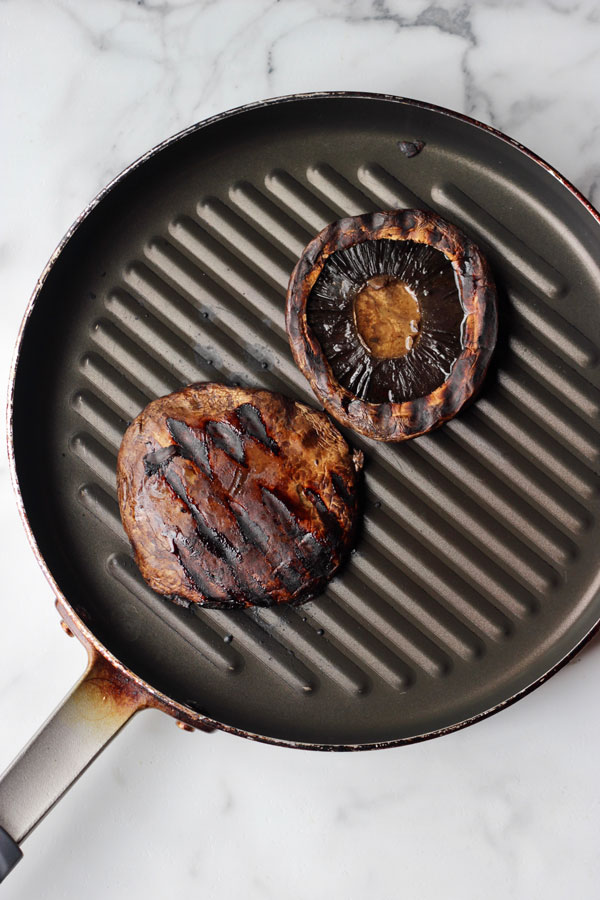 When you start eating a plant-based diet many of your favorite foods are immediately off the table. So many people ask: what do eat I eat now? How do I substitute meat in my meals?  And, are my grilling days gone for good? This simple recipe takes all these unknowns and casts them aside. If you have a recipe like these grilled portobellos in your pocket, you'll always have a quick and delicious meat substitute that you can grill. So, let grilling season commence!
How to Prepare Portobellos for Grilling
To prepare portobellos for grilling, start by removing the stem. The stem is edible but awkward to grill, so save it to use in another recipe like stir fry or tofu scramble.
All mushrooms tend to have some grit on them that needs to be wiped off. Use a damp paper towel and wipe down the cap of the mushroom to remove any debris.
Now, for the big question: do I need to remove the gills? The gills of portobello mushrooms can turn food dark and murky if you're cooking them in something like a stir fry. The gills tend to break off from the mushroom and make a mess of what you're cooking. So, if you're cooking portobellos with other ingredients, go ahead and scrape those gills out with a spoon. But for this recipe, it is okay to leave them in. They are cooked whole and either eaten that way or chopped up and added to a dish that's already been cooked, so don't waste your energy scraping the gills here.
Grilled Portobello Mushroom Marinade
Mushrooms are like little sponges and soak up any liquid that is presented to them.  So, marinating portobellos is a great way to amp up the flavor of your mushrooms.  In this recipe, they are soaked in a simple balsamic marinade, but have fun with different marinades to change up the flavor.
The marinade for balsamic grilled portobello mushrooms has just a handful of simple ingredients: balsamic vinegar, dijon mustard, maple syrup, garlic powder, salt, and pepper.  Whisk all of these ingredients together in a container that will fit the mushrooms.  Add the mushrooms, brushing the tops and bottoms with the marinade to cover completely.  Allow to marinate for at least 10 minutes and up to an hour.  Don't marinate longer than that because the vinegar will start to break down the mushrooms and they get a little soggy.  Trust me.  I've made this mistake, and soggy mushrooms are yuck.
How to Grill Portobello Mushrooms
Once your mushrooms have had a quick soak, remove them from the marinade. Keep the rest of the marinade on hand for brushing the mushrooms while they are grilling.
Heat your grill or grill pan over high heat. Place the mushrooms cap side down on the grill and cook for 5-8 minutes, brushing occasionally with reserved marinade. Grill until liquid starts pooling inside the cap and there are some good grill marks on the cap side of the mushroom. Flip the mushrooms and cook an additional 3-5 minutes, or until a knife slides easily into the mushroom when inserted in the middle.
How to Serve Balsamic Grilled Portobello Mushrooms
Balsamic grilled portobello mushrooms are great served in a variety of dishes. Some ideas on how to use them:
Add the whole mushroom in place of a burger on a bun.
Chop mushrooms and add to a tofu scramble.
Slice and use them as part of a sandwich filling.
Wrap sliced mushrooms in a gluten-free tortilla with spinach, red peppers, and balsamic vinaigrette.
Thinly slice mushrooms and add to salads.
Chop mushrooms and add to tacos.
Dice mushrooms and add to pasta.  They're wonderful with this cauliflower alfredo sauce.
Top grain bowls with roasted veggies and grilled mushrooms.
How to Store Leftover Grilled Mushrooms
Store leftover grilled portobellos in an airtight container in the refrigerator for up to 3 days.  Add them cold to salads or reheat and add them to pasta, grain bowls, and more!  Enjoy!