This post may contain affiliate links. As an Amazon Influencer, I earn from qualifying purchases.
On the hunt for easy, portable vegan gluten free snack ideas? Well, look no further! In today's post I will share with you 30 vegan and gluten free snack ideas, along with some recipes and a handy printable list at the end.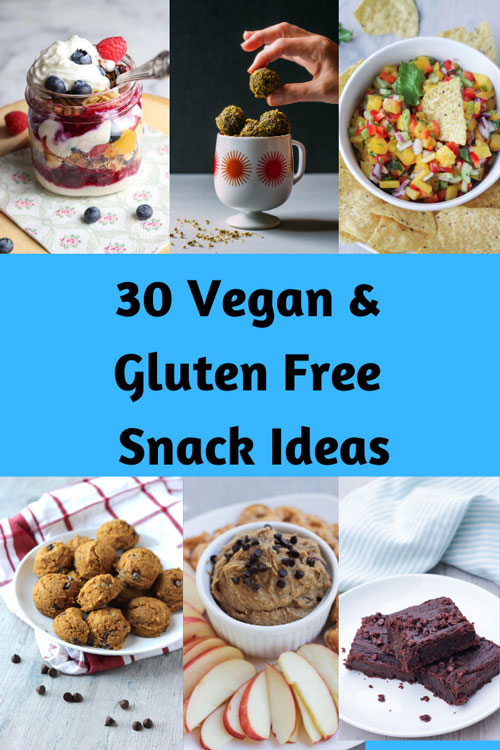 Does anybody else feel like they spend all their time either cooking, shopping or meal planning? I know I do. As soon as our family is done with breakfast, I turn around and its snack time and then lunch time and more snacks. And dinner...don't even get me started on dinner! They want it every. single. night.
I am here today to help solve the snack problem. My kids are doing online learning this year. Every morning their teacher excuses them for snack and they descend like little gremlins on the kitchen. I used to stare at them uncomprehendingly because...didn't I just feed you breakfast like 7 seconds ago? But snacks they demand anyway. And they like options! They don't want an apple or pretzels every single day. So, I came up with a list and now I try to have several of these options on hand at all times.
Some of these vegan and gluten free snack ideas are simple, some require a little prep, but can be stored for later. I also have one kid that loves salty snacks and one that craves sweet, so I've divided them into those categories for ease. These healthy snack ideas are kid-tested and husband approved, so the whole family can indulge.
Healthy Snacks
There are a whole lot of snacks out there that are labeled as "healthy", but when you look at the ingredients list it tells you otherwise. Usually they are filled with refined sugar and oil, and contain lots of preservatives. These snacks can be helpful in a pinch, but with a little preparation, you can have healthy whole food snacks at your fingertips anytime. These snack idea recipes are:
Vegan
Egg free
Dairy free
Gluten free
Refined sugar free
Made with whole food ingredients
Sweet Vegan Gluten Free Snack Ideas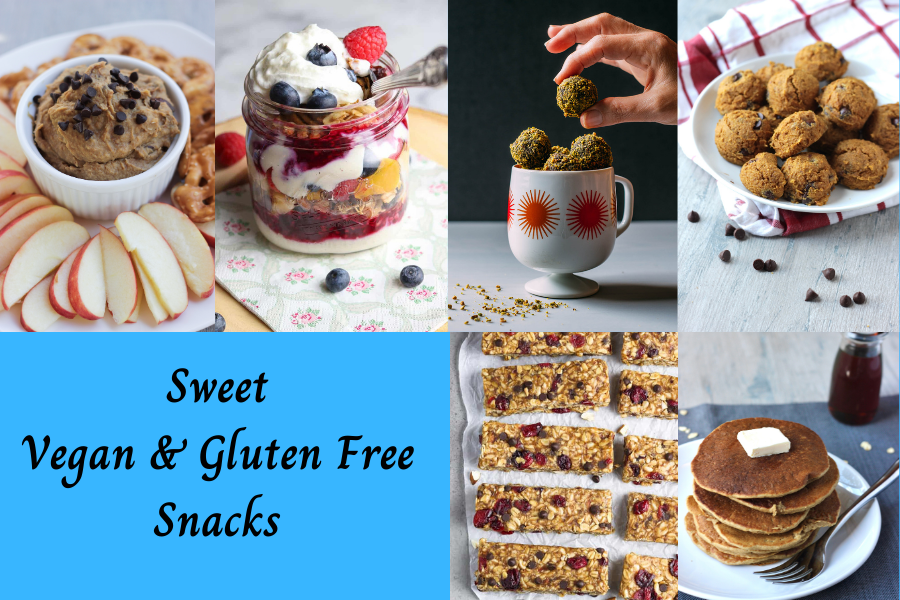 1. Buckwheat Banana Bread or Muffins - This buckwheat banana bread recipe can also be made into muffins. This is a portable snack idea for school or work and both versions freeze well (freeze individual slices of the bread for a quick snack). Defrost on the counter for about 30 minutes or just pop in the microwave.
2. Pumpkin Dark Chocolate Chip Cookies - these delicious cookies are healthy enough for a snack or decadent enough for dessert...you decide!
3. Oatmeal Pancakes - Freeze a big batch of these and then throw them in the toaster or microwave for a quick snack. I like them topped with peanut butter and berries.
4. Stuffed Dates - Pit a whole date and stuff it with nut butter, dark chocolate, coconut, or anything else your heart desires!
5. Cookie Dough Dip - This protein packed snack is made with chickpeas and sweetened with dates. So, even though it tastes like dessert, it is incredibly healthy! I like it with gluten free pretzels or apples.
6. Dried Fruit - Try to find dried fruit that doesn't have sugar added to it. Add a handful of nuts or seeds for a well-balanced snack.
7. Fresh Fruit - The sky's the limit! Try to find fruit that is in season. This will ensure it is fresher and more flavorful.
8. Rice Cakes  - Try them with nut/seed butter, banana and mini-chocolate chips, or coconut yogurt and sliced strawberries.
9. Easy Cocoa Date Truffles - If you've got a sweet tooth, these little truffles are both healthy and able to knock out that sweet craving.
10. Chickpea Brownies - These brownies are decadent enough to qualify as dessert, but healthy enough to eat for a snack. Lots of nutrition is packed into these delightful brownie bites.
11. Snack bites - There are thousands of recipes out there to try , but I especially love these recipes by Veeg and My Plantiful Cooking:
Date-Sweetened Chocolate Pistachio Bites - by Veeg - In just a couple of minutes you'll have wonderfully chocolatey, melt in your mouth, no-bake, date-sweetened, pistachio bites that are out of this world delicious!
Vanilla Coconut Bliss Balls - by My Plantiful Cooking - Naturally sweetened with dates, these are perfect as a snack or dessert .
12. Granola Bars - Try one of these recipes from Running on Real Food and Vegan Huggs:
No Bake Oatmeal Bars - by Running on Real Food - Made with almonds, hemp seeds and oats, these protein packed bars are sure to satisfy.
Vegan Granola Bars - by Vegan Huggs - With dried fruit and mini chocolate chips, these homemade granola bars are divine!
13. Yogurt Parfaits - by Vegan Blueberry - These simple vegan yogurt parfaits are an easy way to look fancy and enjoy healthy and delicious food all at the same time!
14. Bananas - thick sliced with peanut butter and dark chocolate chocolate drizzle.
15. Chia Seed Pudding - by Vegan Blueberry - This is a super healthy way to feel like you're eating dessert. This snack if packed full of fiber, iron and more.
Savory Vegan Gluten Free Snack Ideas
16. Chickpea Salad - Serve with crackers, in a chickpea flour tortilla, or in a large lettuce leaf.
17. Mini Bell Peppers - Stuff with chickpea salad or this vegan cream cheese by Vegan Huggs.
18. Romaine Leaves - Stuff with black beans and top with salsa.
19. Vegan Queso - Serve with tortilla chips, crackers or drizzle on top of those romaine leaves in the snack above.
20. Sweet Potato Fries - These no-oil baked sweet potato fries are awesome dipped in avocado ranch dressing or munching on all by themselves.
21. Sesame Kale Chips - by Mae's Menu - Switch up your healthy snack game with these air fryer sesame kale chips. They're healthy, crunchy, gluten-free, vegan, and ready in just 3 easy steps!
22. Gluten Free Quinoa Crackers - by The Hidden Veggies - This gluten-free cracker recipe is unbelievably easy! You will be amazed that a few simple ingredients of quinoa, water, and spices can turn into a delicious cracker!
23. Mango Salsa - Dip chips in this, eat it in a chickpea flour tortilla, or top half an avocado with it.
24. Jerk Tofu Bites - These tofu bites are delicious eaten cold out of the fridge or warmed in a pan.
25. Veggies and hummus - I know, this is a very popular snack, and you're probably sick of hearing it recommended, but here's a new twist...try this smoky acorn squash hummus by Stacey Homemaker.
26. Popcorn - Try it sprinkled with tamari or coconut aminos and nutritional yeast.
27. Beet and Lentil Falafel -  These flavorful falafel are perfect for snacking on right out of the fridge or lightly warmed in a pan.
28. Savory Nut Mix - Toss nuts or seeds with a sprinkle of tamari, nutritional yeast and garlic powder and bake at 350F for 5-7 minutes until browned.
29. Rice Cakes - Top with smashed avocado, radishes and microgreens. Or get creative and add any spreads and veggies you have around.
30. Roasted Veggies - I like to keep a big container of roasted veggies in my fridge to pull out and snack on. Drizzle them with roasted red pepper sauce or any dressing you have on hand.
Download 30 Vegan Gluten Free Snack Ideas